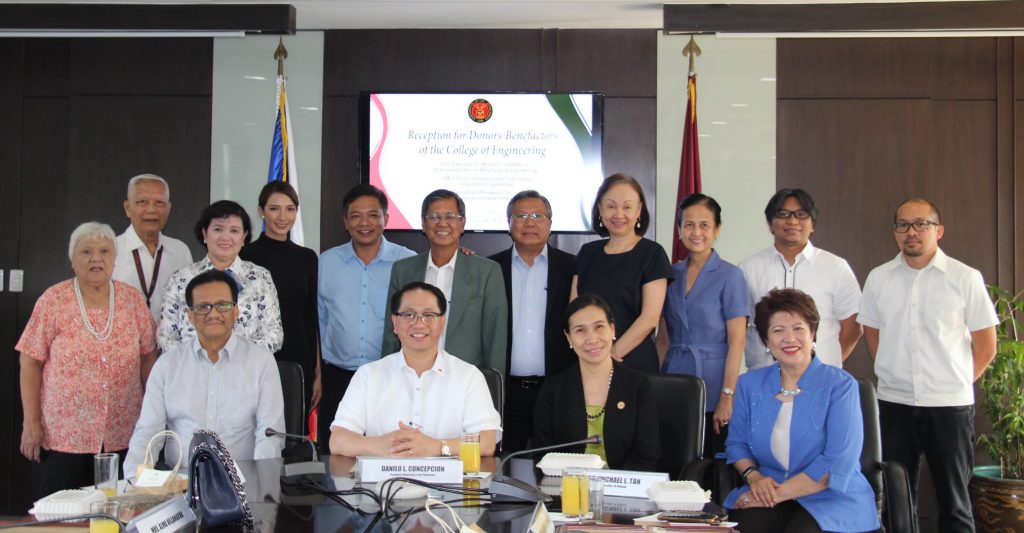 Seated, from left: WITCO President Mark Villanueva; UP President Danilo Concepcion; COE Dean Rizalinda de Leon; UPERDFI President Chato Calderon; Standing, from left: Erlinda Ordillas; Prof. Emeritus Meliton Ordillas, Jr.; Alma Villanueva; Nikki Villanueva; OceanaGold Metallurgical Supt. Hilbert Cardenas; UPERDFI Executive Director Tito Aliga; UPERDFI Chairman Lilit Tumbocon; Dinky Consunji-Laperal; Josie Consunji; DMME Chair Jong Vasquez; DMCI Homes Senior Architect Nikko Gabiosa
UP President Danilo L. Concepcion, with UP College of Engineering (UPCOE) and the UP Engineering Research and Development Foundation, Inc. (UPERDFI), hosted a Donors Reception for major UPCOE benefactors on June 5, 2018 at the Board Room of Quezon Hall, UP Diliman.
UPCOE Dean Rizalinda de Leon and UPERDFI President Rosario Calderon acknowledged the invaluabe contributions of the following:
DMCI Project Developers, Inc., DACON Corporation, and Friends of David Consunji for the DMCI Homes Computational Laboratory for Structural Engineering in the UP Institute of Civil Engineering (ICE)
OceanaGold Philippines, Inc. for the Modernization of Mining and Metallurgical Laboratories in the UP Department of Mining, Metallurgical, and Materials Engineering (DMMME)
WITCO Construction and Development Corporation for the Prof. Emeritus Dr. Meliton Ordillas, Jr. Professorial Chair in Metallurgical Engineering.
Mrs. Ma. Edwina Consunji-Laperal, Ms. Lucy A. Consunji, and Senior Architect Nikko Gabiosa of DMCI Group, Metallurgical Superintendent Hilbert Cardenas of OceanaGold, and Mr. Mark Villanueva of WITCO received the Sundial Plaques. Prof. Emeritus Meliton Ordillas, Jr. and wife Erlinda Ordillas were also recognized during the Reception.
Also in attendance were UPERDFI Chairman Emilio Lolito Tumbocon and Executive Director Alfonso Aliga, DMMME Chair Magdaleno Vasquez, Jr., Mr. Villanueva's spouse Mrs. Alma Villanueva and daughter Ms. Niki Villanueva.