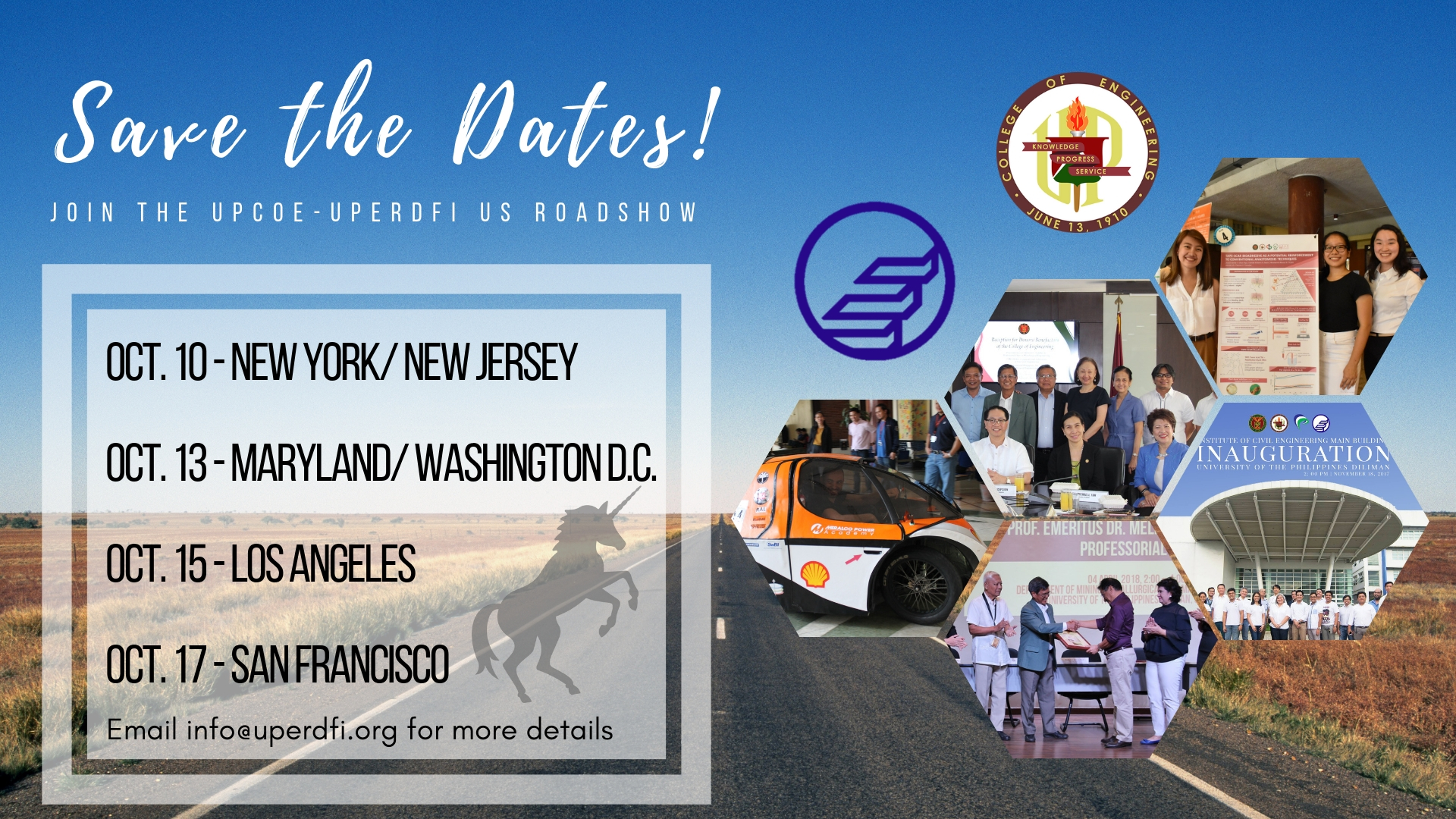 Join UPCOE Dean Dr. Rizalinda "Babylin" de Leon and UPERDFI President Ms. Rosario "Chato" Calderon in their visit to Washington D.C./ Maryland and New York/ New Jersey in the East Coast; and San Francisco and Los Angeles in the West Coast in October.

What's New?
This roadshow is meant to share with our Engineering alumni and friends in the US the new thrust of UPCOE and UPERDFI to promote Technopreneurship. We are gearing up to bring out the research results of our faculty and students from the dustbin of showcase cabinets out in the market!
Dean de Leon will present UPCOE's current situation including its recent achievements, its renewed focus on innovation technology transfer and the challenges experienced by being a state owned university.
In response, Chato Calderon will present UPERDFI's Strategies and Activities of advising, investing and commercializing innovation and transforming engineers to technopreneurs for improved Philippine competitiveness, economic prosperity and for better quality of life.
UPCOE and UPERDFI thank our alumni network and friends in the US for helping us organize this Roadshow!

Check out the dates and venues for the upcoming US Roadshow:
Oct. 10 (Wed) – Philippine Consulate, New York City
[Click to RSVP]
Oct. 13 (Sat) – Philippine Embassy, Washington D.C.
[Click to RSVP]
Oct. 15 (Mon) – Silver Lake Medical Center, Los Angeles
[Click to RSVP]
Oct. 17 (Wed) – Philippine Consulate, San Francisco
[See Event Details]
Let's Keep in Touch
Visit our website and our Facebook Page regularly or contact info@18.141.158.9 so we can keep you in the loop. Spread the word and see us in the US!