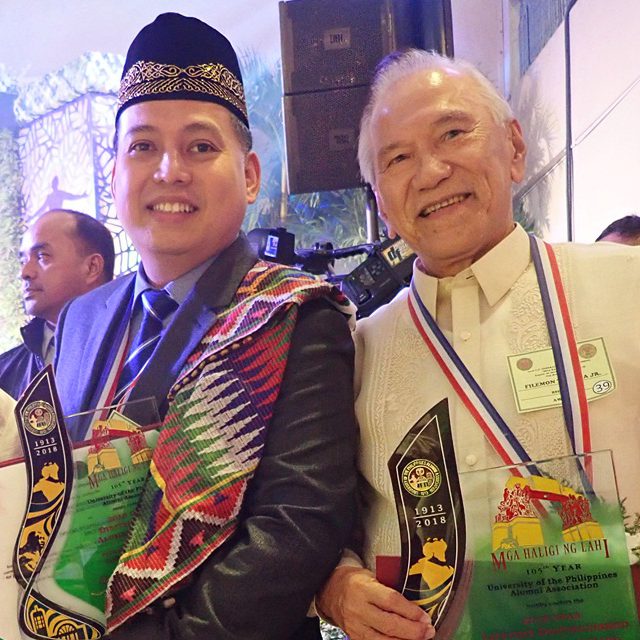 (L-R) Don Loong and Jun Berba
UPERDFI Members Filemon "Jun" Berba, Jr. received the Lifetime Distinguished Alumni Award and Don Mustapha A. Loong nabbed the Distinguished Alumni Award for Public Service and Good Governance during the UP Alumni Association Grand Alumni Homecoming held last August 18 at the Bahay ng Alumni, Quezon City.
Filemon T. Berba, Jr. graduated magna cum laude in Electrical Engineering in 1959 from the University of the Philippines and serves as President of Philippine Foundation for Science Technology. Jun also received the UPAA Multi-Generation U.P. Alumni Family Award with Dr. Regina Pascua-Berba, BS'83; MD'87, the 2018 Distinguished Alumna Awardee for Health Research and Education.
Don Mustapha A. Loong, CE '00 and the youngest awardee of the night was honored for his service as Regional Secretary of the Department of Public Works and Highways in Autonomous Region in Muslim Mindanao (DPWH-ARMM).
See related article: DPWH RSec Loong Shares ARMM Story- A Tale of Grit
The UPERDFI Trustees, Advisers and Members congratulated Jun and Don for the well-deserved recognition of their contributions to UP and the country during the Board of Trustees Meeting held on August 23 in Quezon City.
The 2018 UPAA Distinguished Alumni Awardees were honored as "Mga Haligi ng Lahi" for having best exemplified the Alma Mater's ideals of service, excellence and leadership – with their outstanding accomplishments and services rendered to their communities which have brought glory upon glory to our alma mater, the national university.
See complete list of awardees: 2018 UPAA AWARDEES