All Aboard! UPERDFI Cocktails on Feb. 20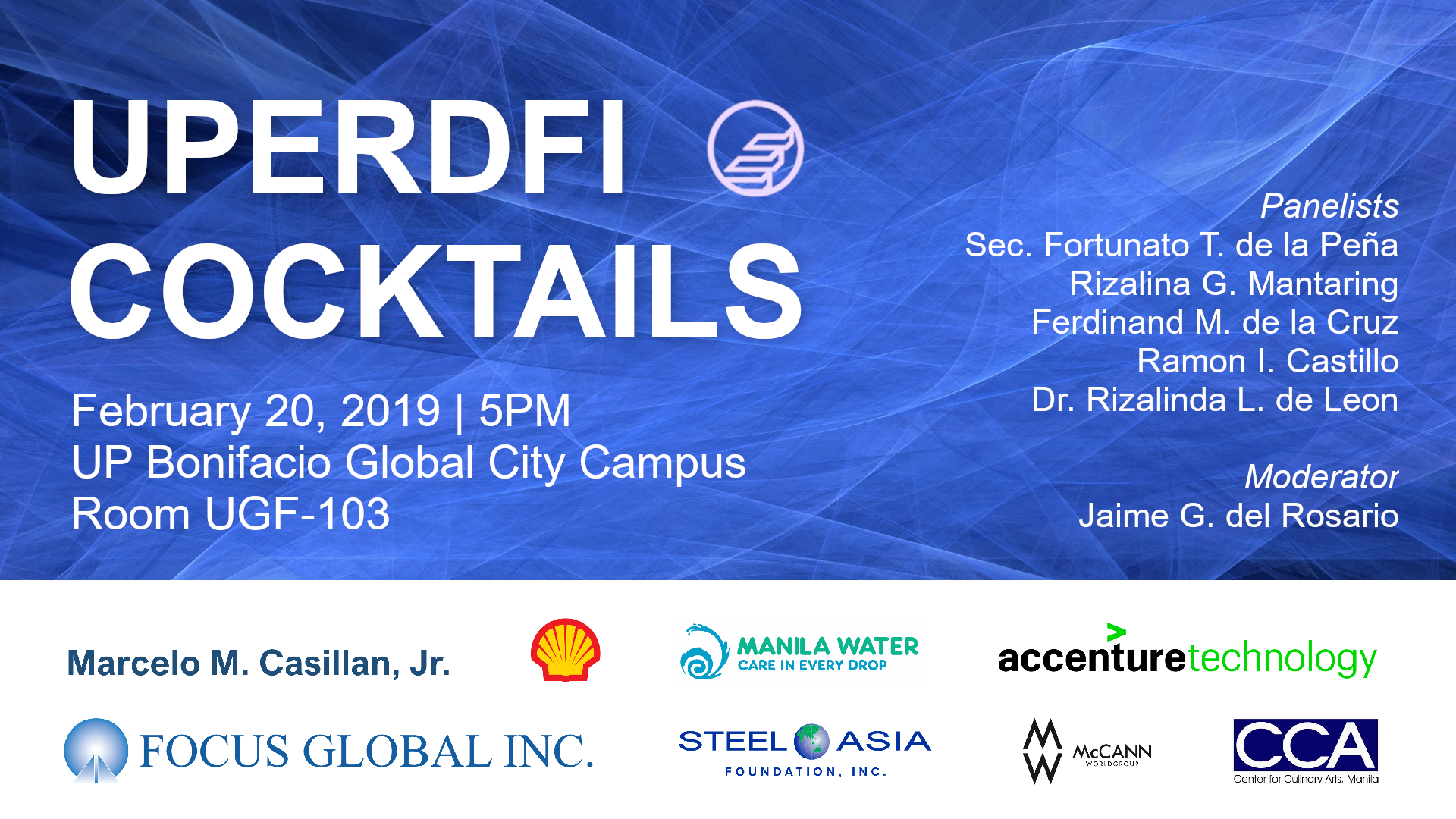 With the sponsorship of our member Marcelo Casillan, Jr., Manila Water Co., Inc., Shell, Accenture, SteelAsia Foundation, Focus Global, Inc., McCann WorldGroup Philippines and CCA Manila, we host the UPERDFI Cocktails on February 20, Wednesday, from 5 to 8pm at the UP Bonifacio Global City Campus in Taguig City. Supporters of the UP College of Engineering (UPCOE), comprising UPERDFI members, donors, mentors and corporate partners are invited.[RSVP]

UPERDFI members – DOST Secretary Fortunato "Boy" de la Peña; Management Association of the Philippines President and SunLife of Canada Philippines Chairman Rizalina "Riza" Gervasio-Mantaring; Manila Water Co. President and CEO Ferdinand "Ferdz" de la Cruz; and Innovatronix President and CEO Ramon "Mon" Castillo will share their inspiring stories, discuss the role of UPERDFI in its service to the UPCOE, and explain ways for the industry and academe to collaborate.

Sponsorships to the Cocktails will go to the Innovation Grants Fund, a pool that will enable UPERDFI to provide support and services to UP faculty and student projects in the development and start-up levels. The Cocktails kicks off the regular Technopreneurship Event Series that will elevate support to innovations from the UPERDFI Network.

UPCOE Alumni Build Up the Student Competition Fund

We thank Longridge Construction, Inc. led by its President, Benedict Laogan (CE '94); the Allado Construction Corporation led by its President and UPERDFI member Ramon Allado (CE '78), and one alumnus (who wants to remain anonymous) for donating to the UPCOE Student Competition Fund. Aside from the funding, they provided technical assistance to a team of Civil Engineering students bidding to win the American Concrete Institute (ACI) Competition in Quebec, Canada from March 24 to 28, 2019. The UP Team had won the national competition.

The Philippine delegation will be headed by Ramon Allado, President of ACI Philippines, while the UP Team is led by UP ICE Asst. Prof. Christian Orozco.

We also acknowledge the financial support of Analog Devices Gen. Trias to the UP Team from the Electrical and Electronics Engineering Institute (EEEI) to the International Solid-State Circuits Conference (ISSCC) to be held in San Francisco USA this March 2019. Analog, whose Managing Director is our member Ed Fortunado (EE '74) has been providing financial support to this annual event since 2017. The UP EEEI team is led by Dr. Louis Alarcon. Analog also sponsors a professorial chair.

UPERDFI bridges alumni and corporate partners by fostering communication and engaging the community in meaningful collaborations.
Save the Date for Benefit Concert "ENGG MUSIKA!"




Engg Musika! is a benefit concert organized by the UP College of Engineering (UPCOE) and the UPERDFI to be held on Saturday evening, April 6, 2019 at the DM Consunji Theater in UP Diliman. The concert showcases the musical talents of UPCOE alumni, faculty and staff. Key performers include DOST Sec. Boy de la Peña, DOST Usec Rowena Cristina "Gev" Guevara, Dean Rizalinda "Babylin" de Leon, former Dean Aura Matias, UPERDFI President Chato Calderon, Professors Rhod Gonzalez, Benny Pacheco, Glen Tabios, Ji Reyes, Sean Palmiano and many more, including UPCOE staff.

The concert proceeds will be for the Student Well-Being Program – a comprehensive initiative by the UPCOE and UPERDFI to provide students with facilities and services for life coaching, peer support, meditation and relaxation – to overcome stresses and foster an outlook of optimism.

And Engg Musika! is also a way for the alumni, faculty, staff and most importantly, our audience to de-stress and have fun! Save your April 6th for Engg Musika!


J. Amado Araneta Foundation, Inc. Donates 10 TSGs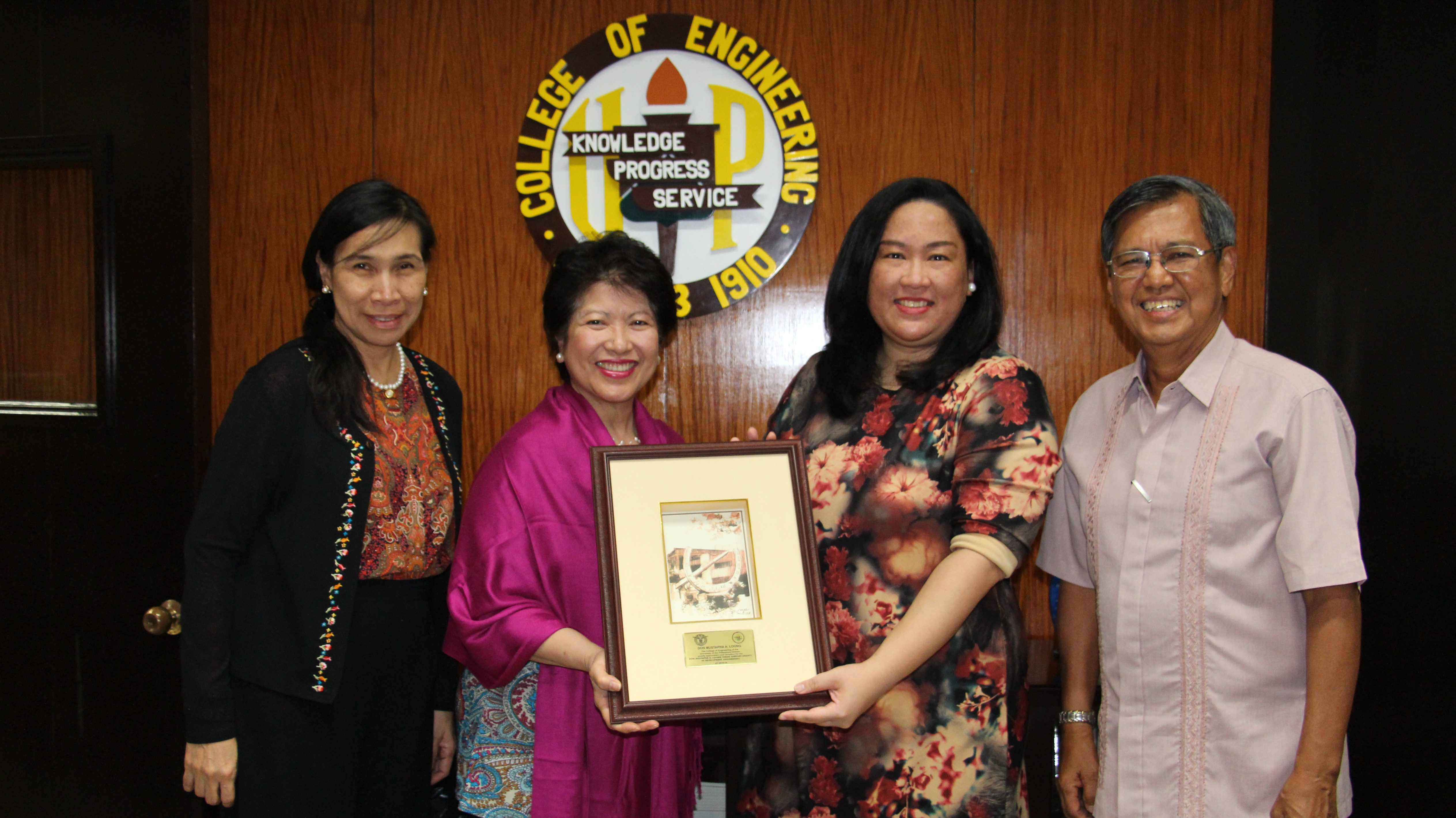 UPCOE Dean Rizalinda de Leon, UPERDFI President Chato Calderon, J. Amado Araneta Foundation, Inc. Executive Director Christine Diane Romero and UPERDFI Tito Aliga

UPERDFI and UPCOE thank the J. Amado Araneta Foundation, Inc. through Araneta Group Senior VP John B. Castelo (EE '86) for donating ten (10) Thesis Support Grants for AY 2018-19. The JAAFI TSGs aim to support students doing research topics in the domain of transportation, big data analysis, urban development, social-technology entrepreneurship and environment.
Manila Water Foundation Launches 2019 Prize for Engineering Excellence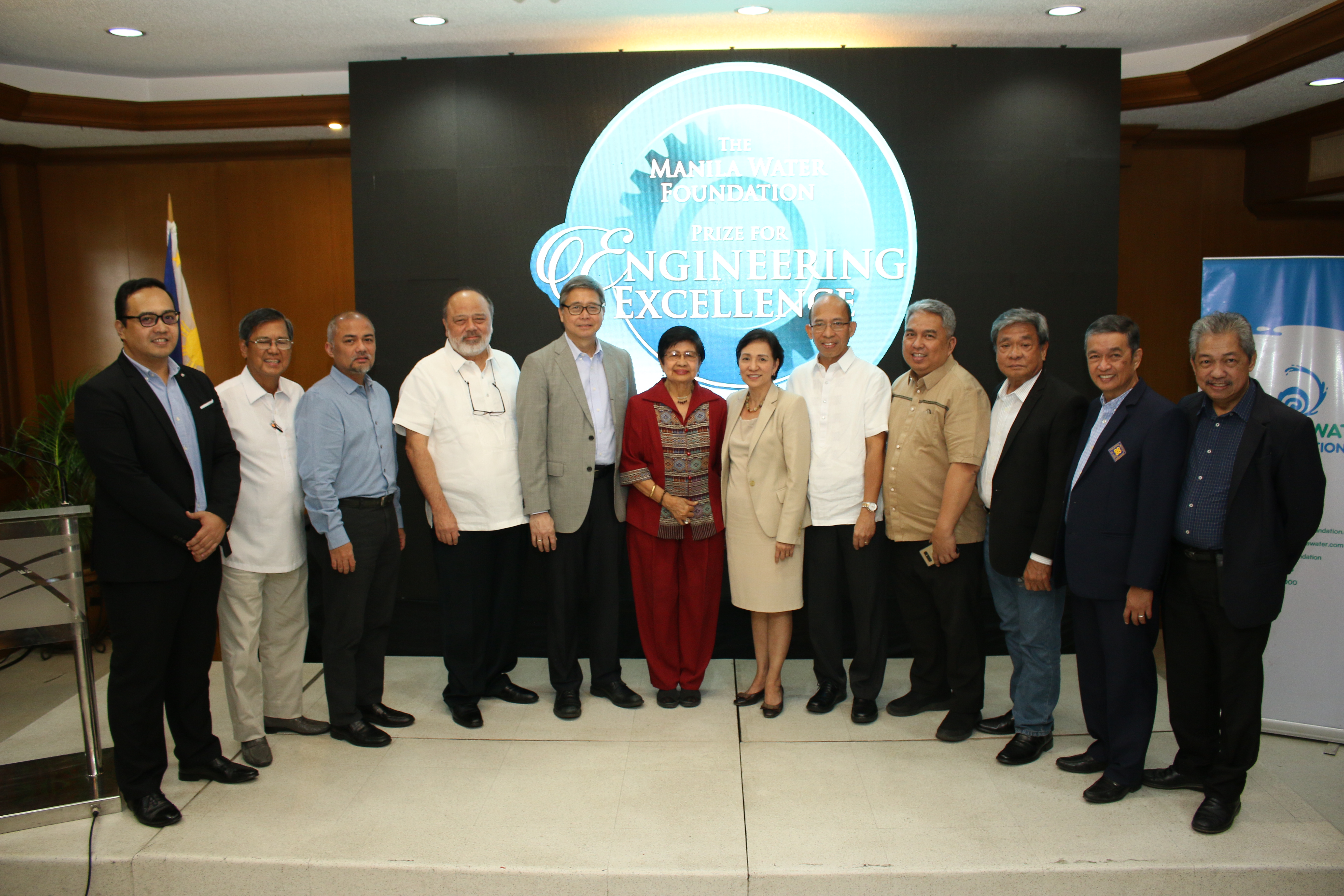 From L-R: Manila Water Foundation ED Reginald M. Andal; UPERDFI ED Tito Aliga; 2015 MWF Awardee, UP EEEI Professor and DOST-Advanced Science and Technology Institute Director Dr. Joel Joseph Marciano, Jr. (EE'94); Philippine Technological Council VP for Internal Affairs Engr. Elpidio Carlota (IE '72); MWF President Geodino V. Carpio; PTC Founder and Board Member Dr. Lydia Tansinsin; DOST Asst. Sec. for International Cooperation Dr. Leah J. Buendia; 2017 MWF Awardee Dr. Ricardo Orge; PTC VP for External Affairs Engr. Cezar Dela Cruz; PTC Country Registrar Engr. Romulo Agatep; PTC Secretary Dr. Robert Licup; and PTC Head of Energy Committee Dr. Florigo Varona. Photo by Manila Water Foundation

Manila Water Foundation (MWF) formally launched the 2019 MWF Prize for Engineering Excellence on February 12 at the SEAMEO INNOTECH, Quezon City. MWF supports Filipino engineers doing research and development and implementing their projects. UPERDFI has been supporting the bi-annual event since its inaugural awards in 2015. MWFI is chaired by our Trustee Ferdz de la Cruz.

The nominations and applications are now open for the next set of awardees to join the six engineers-cum-scientists who have implemented projects related to Water, Sanitation, Environment and Sustainability, and recognized by MWF in 2015 and 2017. To know more about the MWF Prize for Engineering Excellence, visit www.manilawaterfoundation.org
Optimizing UPCOE Laboratories

Discussions have started with the Philippine Constructors Association (PCA) for the equipping of ICE Laboratories, sparked by UPERDFI members Roger Murga and Lilit Tumbocon, both past PCA presidents who sit in the board of the PCA Foundation. Visiting alumnus Francisco "Kit" Ramos (ME '80), who is the Project Manager of the Research Enterprise of Northwestern University in Illinois, has also discussed the setting up and operations of R&D assets utilizing private-sector funding with Dean de Leon and DChE Chairman Terence Tumolva.

UPCOE and UPERDFI are working with the guidance of UP President Danilo Concepcion and UP VP for Planning and Development Elvira Zamora regarding self-sustaining laboratories.


The 161st Regular Board of Trustees Meeting will be held on February 20, 2019 (Wednesday), 3-5pm at the UP BGC Room 102