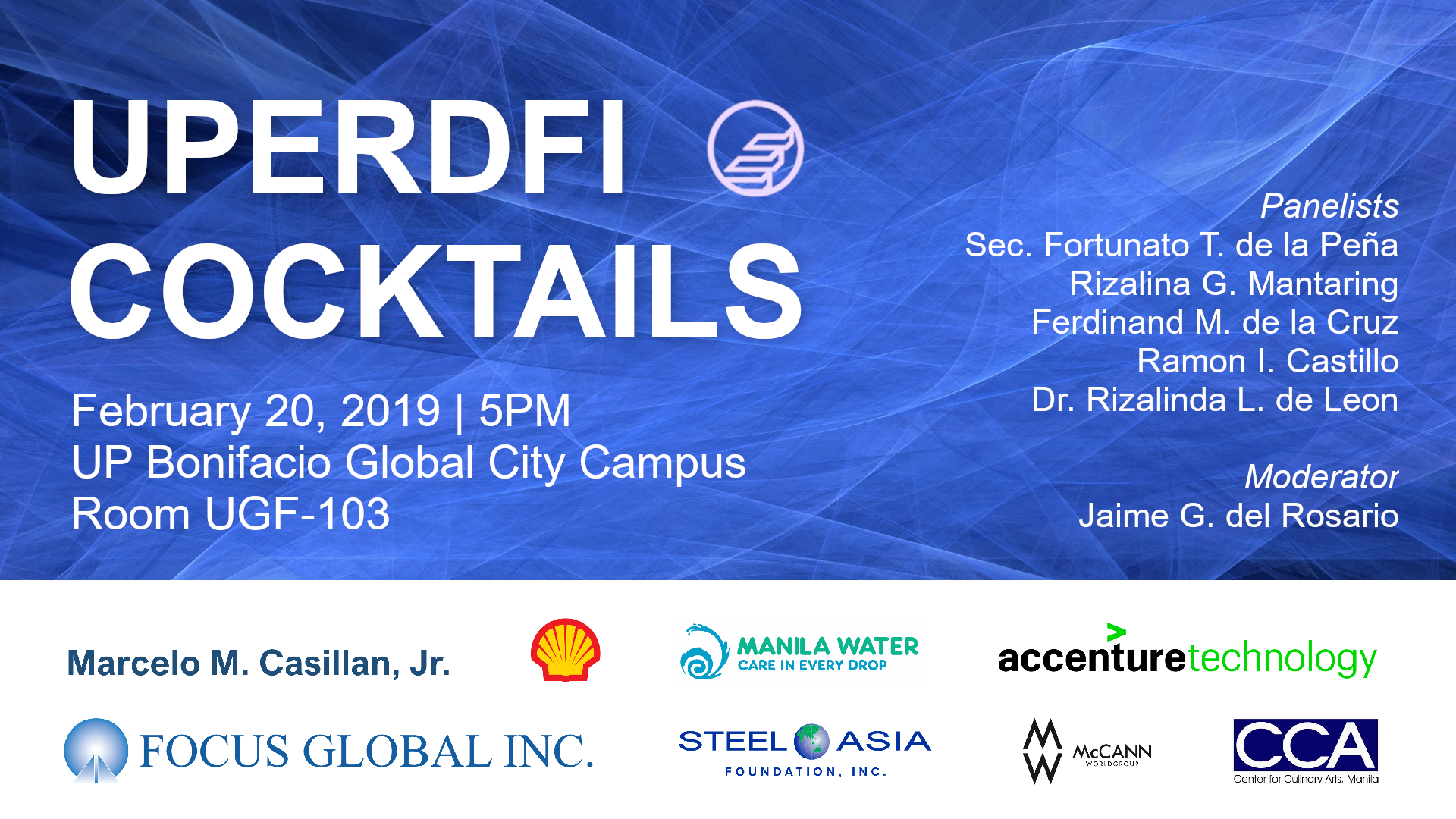 The UP Engineering Research and Development Foundation, Inc. (UPERDFI) was joined by 70 members and guests for its first-ever Cocktails on February 20, 2019 at the UP Bonifacio Global City Campus in Taguig. We thank our sponsors – UPERDFI Member Marcelo Casillan, Jr.; Accenture (through Engg alumnus Glenn Gratil, Managing Director), Center for Culinary Arts (CCA) Manila (through member UPERDFI VP Rico Trinidad, President); Focus Global Inc. (member Steve Sy, CEO); McCann WorldGroup Philippines (UP alumnus Raul Castro, President); Manila Water Company, Inc. (UPERDFI Trustee Ferdz de la Cruz, President and CEO); Pilipinas Shell Petroleum Corporation (Member Cesar Romero, CEO); and SteelAsia Foundation (Member Lillian Yao, Treasurer).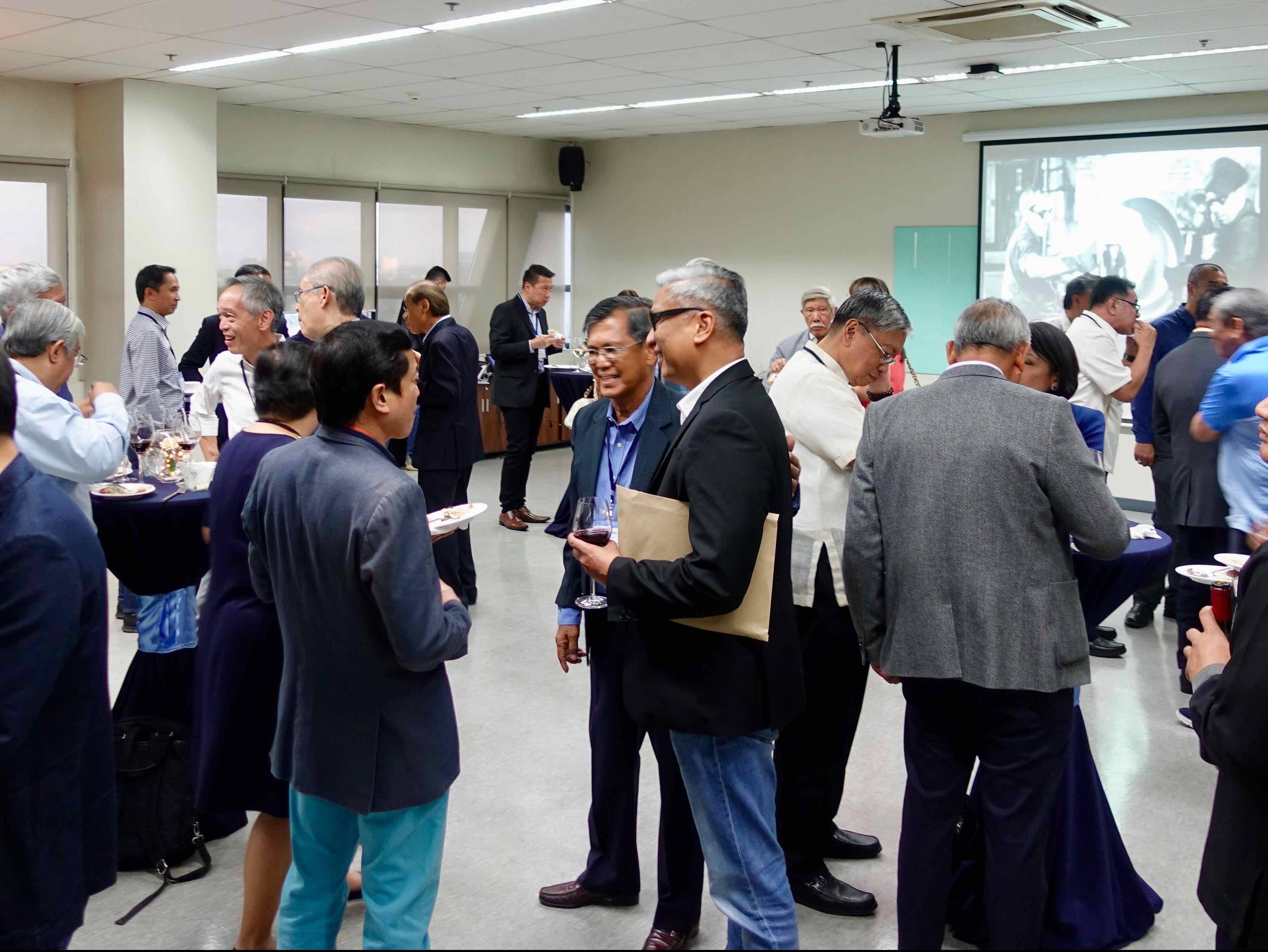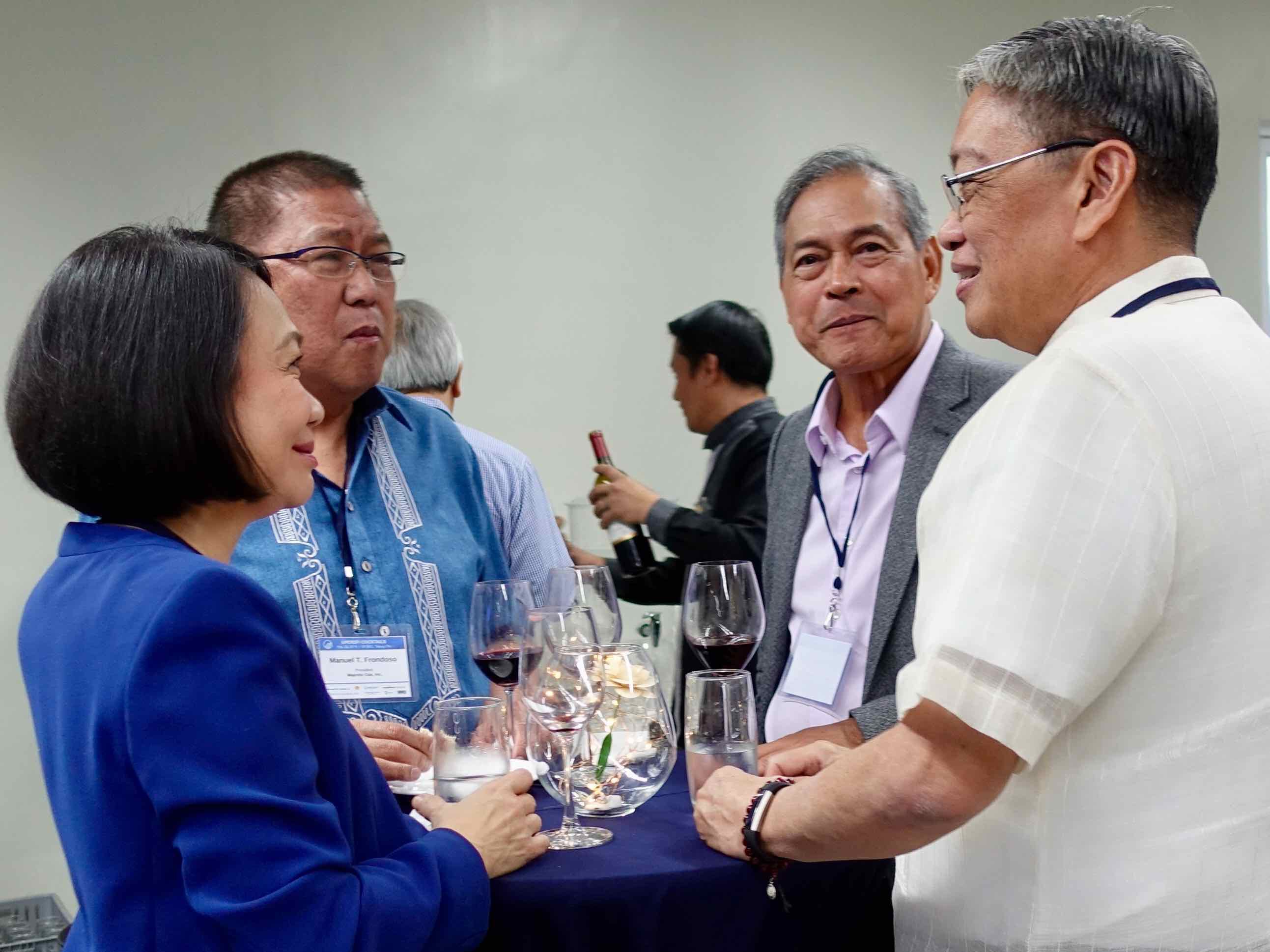 The Cocktails began at 5pm and guests were able to socialize over great food and wine served by the CCA Manila. UPERDFI Executive Director Tito Aliga warmly welcomed the 35 members and 35 donors/non-members who attended the event.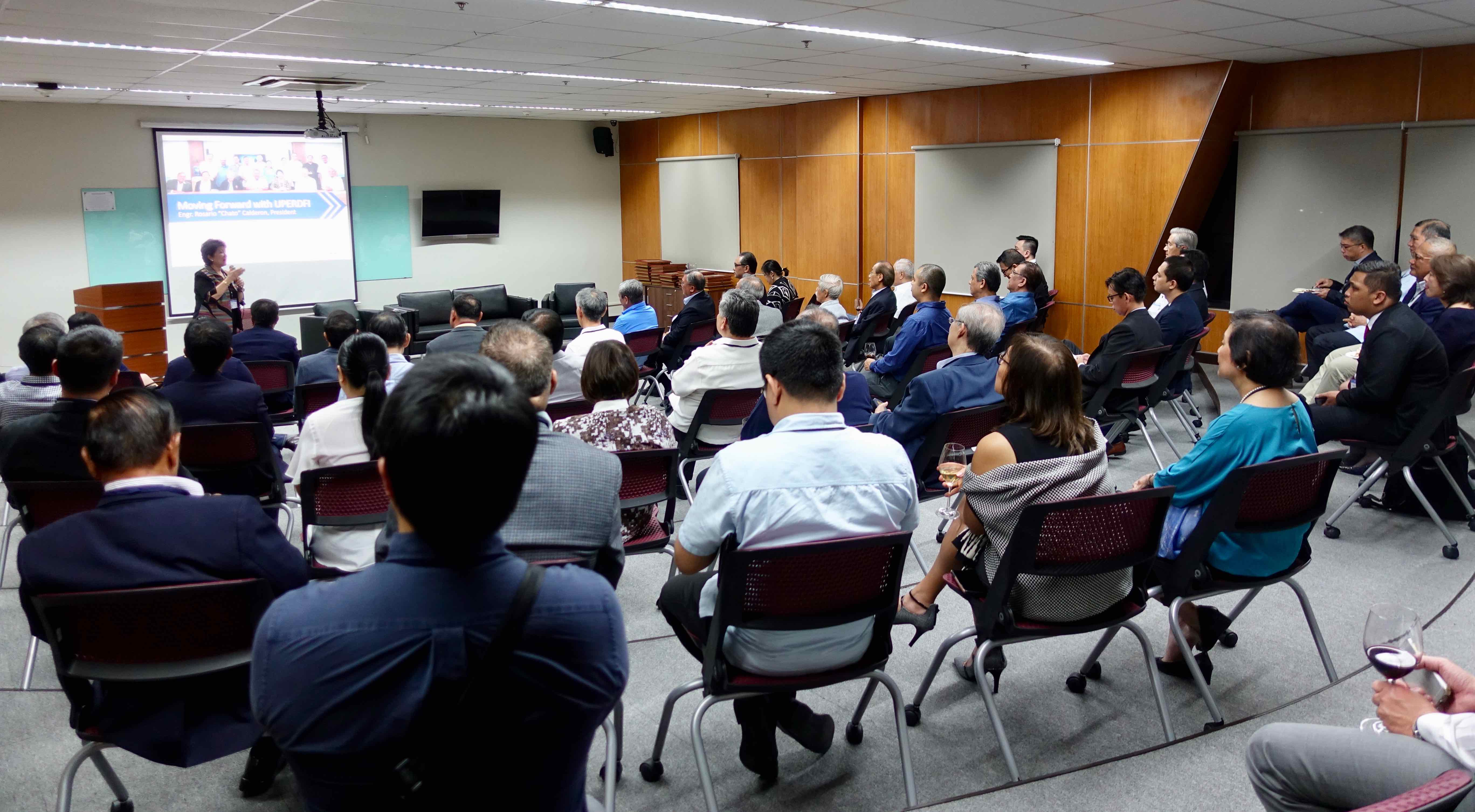 UPERDFI President Rosario "Chato" Calderon formally welcomed the attendees to the Cocktails and took the opportunity to shed light on UPERDFI. UPERDFI was established in 1972 to support the UP College of Engineering (UPCOE) faculty, students and infrastructure to maintain its excellence in education and support its role in nation-building. By mobilizing resources from Engineering alumni and corporate partners, UPERDFI has helped build laboratories and classrooms; established 180 Professorial Chairs; and currently supports over 200 students through study grants and thesis grants.
Now in its 47th year, UPERDFI is undertaking projects at a broader scope. it is now answering other pressing needs such as the commercialization of UPCOE researches by strengthening the UP innovation ecosystem, and the improvement of student well-being, all important components of its thrust to produce the best Engineers who will shape the future of the Philippines.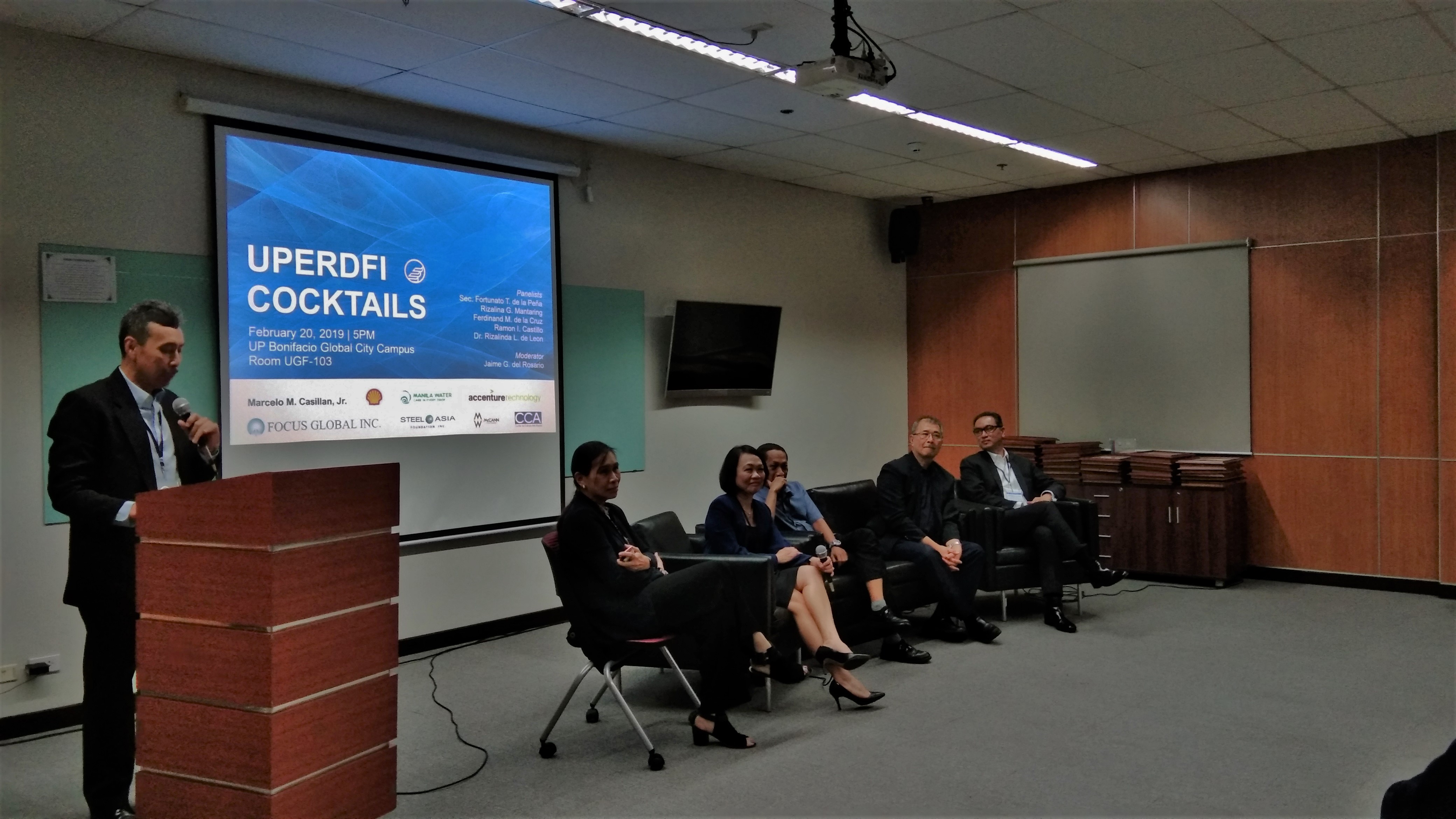 The night was made more special by the thought-provoking discussions on industry-academe-government collaborations for Innovation Commercialization with panelists who are UPERDFI members – DOST Secretary Fortunato de la Peña; Management Association of the Philippines President Rizalina Mantaring; Innovatronix President and CEO Ramon Castillo; Manila Water Company President and CEO Ferdinand de la Cruz; and UPCOE Dean Rizalinda de Leon. UPERDFI Trustee and One Small Step Forward Foundation President Jaime del Rosario hosted the panel discussion.
MAP President and SunLife Chairman Riza Mantaring talked about her journey to the top and the innovations she had to make in trailblazing the insurance business in the Philippines. As MAP President, Riza looks forward to collaborating with UPCOE and UPERDFI in developing a robust innovation ecosystem. Spouses Riza and Chicho Mantaring donated a Professorial Chair in celebration of their daughter's graduation as BS Computer Engineering summa cum laude in 2009. She shared that at 51, she started her first run and has now finished all six courses in the World Marathon Majors – proving it's never too late to start anything, no matter how impossible it seems. Riza has also broken the 'glass ceiling', being one of the top female engineer-CEOs in the country. Her secret? She never thought of herself as female and her peers male, and just did her best and worked hard to achieve results.
DOST Secretary Boy de la Peña, unbeknownst to many, has been a pillar of UPERDFI alongside Dean Juinio way back 1972. After serving as a Trustee for many years, he now sits in the Council of Advisers to provide strategic advice to the Board. Sec. Boy shared the numerous initiatives of DOST in education, R&D and commercialization of science and technology in the country, with UP getting a huge share of its budget. DOST is also active in forging academe-industry linkages through Collaborative Research and Development to Leverage Philippine Economy (CRADLE). When asked about his take on UPERDFI's Technopreneurship Thrust, Sec. Boy affirmed the relevance of this vision by citing Dean Juinio's Innovation Commercialization Plan 30 years ago. However, he cited that innovators may need actual work experience to learn valuable lessons and to formulate a more grounded business before launching their own startup. On a lighter note, Sec. Boy shared Riza's sentiment about new beginnings, citing his venture into singing at age 61.
The third speaker, Mon Castillo was the founder, President and CEO of Innovatronix and holder of six patents. He has been active in financing and mentoring innovators, having supported six projects with around PhP 8M in total. Unfortunately, all of them failed: But he has not given up on UP. "Medyo hilaw", he described UP innovators who are still fresh in terms of collaboration and entrepreneurship. His advice was to create products that have immediate applications. Mon offered the Innovatronix facilities for UP innovators to conduct their research, and direct financial assistance to high-potential projects.
Q: How can we foster an innovative and entrepreneurial mindset among teachers and students?
A: Profit motive. The barrier to entry is significantly reduced due to online marketing and selling options such as Lazada or Amazon.
Manila Water Company President and CEO Ferdz de la Cruz became a UPERDFI Trustee in 2018. He was initially just a donor of thesis support grants and a three-year email pal of UPERDFI Executive Director Alfonso "Tito" Aliga. He accepted the Trusteeship and immediately felt at-home in UPERDFI.

"UPERDFI is one of UP's best-kept secrets."

Having worked in the marketing and branding sectors, Ferdz highlighted the importance of 'getting the message out'. His first initiative as Trustee was to enlist the support of McCann WorldGroup Philippines in rebranding UPERDFI to increase its stakeholder engagement – to have more people like him know about UPERDFI and UP Engineering. Ferdz is also a member of the Innovation Committee and advocates for the search and active support for one potential blockbuster project. Manila Water laboratories are also open for faculty and students to conduct R&D.
UPCOE Dean Babylin de Leon capped off the panel discussion by sharing to the audience the pressing needs of the College – increasing graduation through the Student Well-being Program and the ongoing discussions to increase freshmen admission; fostering partnerships to optimize the research, service and instructional engineering laboratories; and collaborating with industry experts to mainstream grounded innovations by enlisting mentors and allowing students and faculty to use their company's labs (co-laboratories).
UPERDFI Advisers took the opportunity to share their insights on where UPERDFI is heading. DMCI Holdings Chairman Isidro "Sid" Consunji reassured the Dean of the Philippine Constructors Association's support in building sustainable Civil Engineering laboratories. DMCI Holdings has been actively supporting UPCOE by way of constructing buildings and laboratories and establishing Professorial Chairs.
Former MERALCO President and UPERDFI Adviser Jesus "Chito" Francisco admitted that he attended the event because he was initially just curious about UP BGC and now that a UPERDFI event is near Makati, he had no reason to miss it. But in the end, he was happy to be back in UPERDFI, to know about the latest happenings in UP, and has committed his renewed support.
Finally, UPERDFI ED Tito Aliga awarded the ceremonial Sundial Plaques to the UP College of Engineering donors – Ferdinand de la Cruz for Manila Water Company (Innovation Grants Fund); Rico Trinidad for CCA Manila (Innovation Grants Fund); Norman Juguilon (Lydia Juguilon TSGs); Chelle Gray for Thinking Machines Data Science (Study Grants and Thesis Support Grants); Lilibeth Aristorenas (Jake and Lilibeth Aristorenas TSG); Ton Kimseng for McCann WorldGroup Philippines (Innovation Grants Fund); Stephen Sy for Focus Global Inc. (Innovation Grants Fund); Jerome Cainglet (Jerome Cainglet TSGs); Rosario Calderon for Brenton Calderon Marrelli (Norma Calderon TSG) and Allado Construction Corporation (Student Competition Fund); Raymond Magpantay (Raymond Magpantay TSG); and Glenn Gratil for Accenture Technology (Innovation Grants Fund).
Cocktails Gallery
Panel Discussion Gallery
The UPERDFI Board of Trustees, led by President Chato Calderon thank the sponsors, panelists and guests for making the UPERDFI Cocktails a success! The UPERDFI Cocktails was spearheaded by UPERDFI Vice President Frederick "Rico" Trinidad, with the active support of ED Tito Aliga, Trustee Bing del Rosario and Trustee Ferdz de la Cruz.
UPERDFI needs more resources – time, talent/ideas, treasure and network – to fully realize its goals. Without the formal structure unlike bigger Foundations, it must rely on the spirit of volunteerism and ardent support from its Members and Partners in the industry, academe and government.
To know more about UPERDFI and the work we do, connect with us through any of the following channels:
Office: Juinio Hall Room 218, UP Campus, Diliman, Quezon City
Email: info@18.141.158.9
Telephone: (02) 926-5487 | (02) 981-8500 local 3015
Facebook: /uperdfi