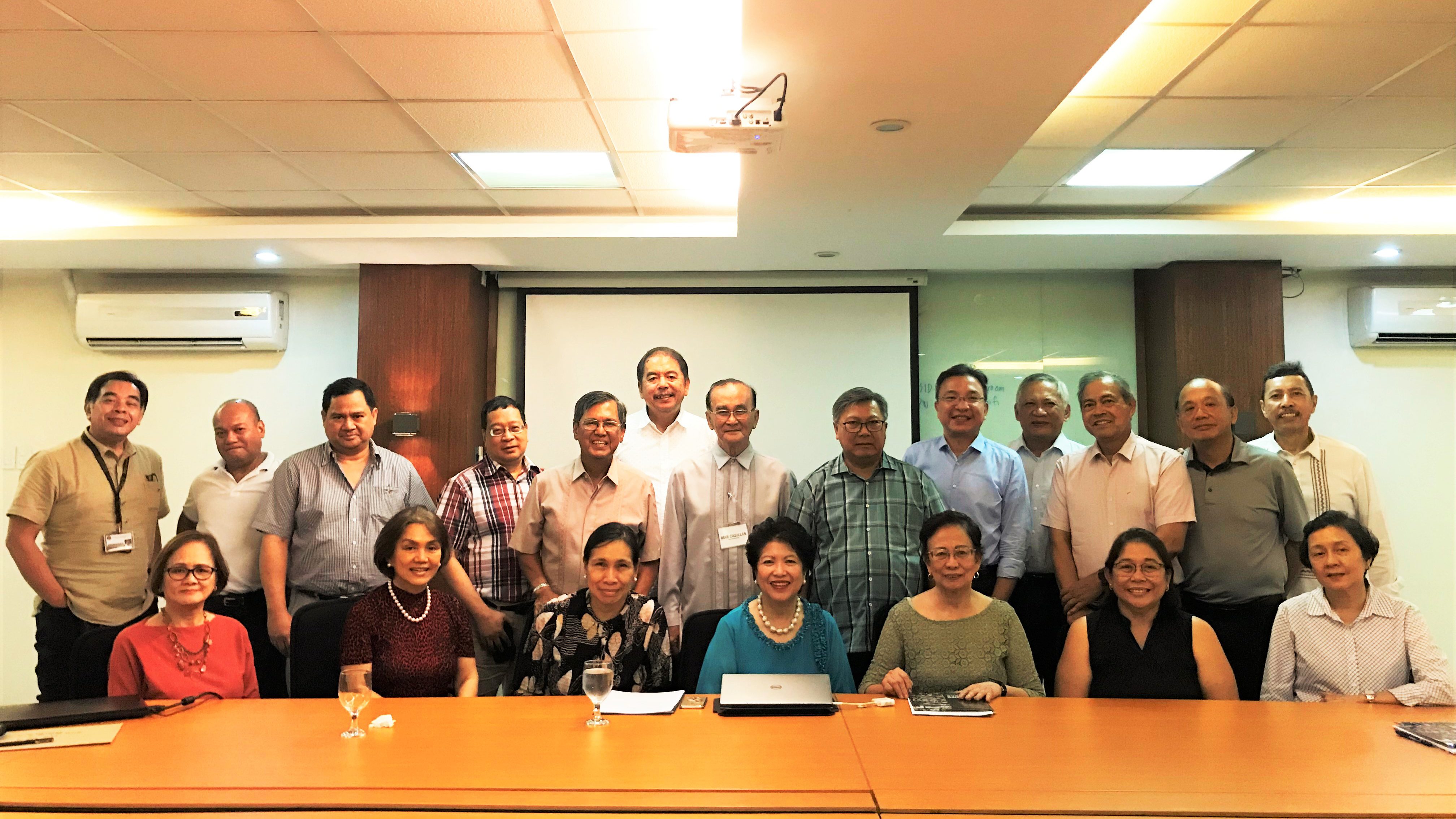 (Seated, L-R) Lillian Yao, Elise del Rosario, Dean Rizalinda de Leon, Chato Calderon, ex-DOST Sec Nina Alabastro, ex-Dean Aura Matias, Edith Atienza; (Standing, L-R) Ji Reyes, Raffy Aguilar, Roger Buendia, ex-Dean Ega Atanacio, Tito Aliga, Noly Torres, Mar Casillan, Lilit Tumbocon, Rico Trinidad, Dante Briones, Pete Maniego, Ronnie Nolasco and Bing del Rosario
UPERDFI members gathered for the annual meeting of the General Membership on May 15 in UP Diliman. Outgoing Chairman Lilit Tumbocon presided the meeting and welcomed the members who attended. The list of the 14 new members of UPERDFI, recruited within AY 2018-19, was also presented.
Outgoing President Chato Calderon revisited UPERDFI's objectives and implementing strategies. She highlighted the outstanding results in resource generation, communications and impactful projects for the year. Executive Director Tito Aliga fleshed out the status of the various programs and projects of UPERDFI vis-à-vis the five key areas. He highlighted the need for ball-carriers for each initiative to push through. UPCOE Dean Rizalinda de Leon shared the current situation of the College. Despite the numerous challenges, UP continues to be the leading engineering institution in the country.
The General Membership elected three new Trustees to serve for the next three years, taking the vacant positions of the outgoing Trustees Lilit Tumbocon, Chato Calderon and Aura Matias. The members and Trustees thanked the commitment and service of the three outgoing Trustees.
New Trustees
Edgardo Atanacio (IE '76) – Former UPCOE Dean and IE Professor
Dante Briones (IE '82) – Sasonbi Solar Group President
Rowena Cristina Guevara (EE '85) – DOST Undersecretary for Research and Development, former UPCOE Dean and EE Professor
Outgoing Trustees Lilit Tumbocon and Chato Calderon were also nominated by the Trustees to be part of the Council of Advisers for their continuous strategic guidance to UPERDFI.
The incoming Board of Trustees for the AY 2019-20 also elected the Officers from within their ranks and appointed the key positions.
Officers (AY 2019-20)
Chairman: Alex Sy
President: Rico Trinidad
Vice-President: Bing del Rosario
Corporate Secretary: Ronnie Nolasco
Treasurer: Ega Atanacio
Key Positions
Executive Director: Tito Aliga
Comptroller: Edith Atienza