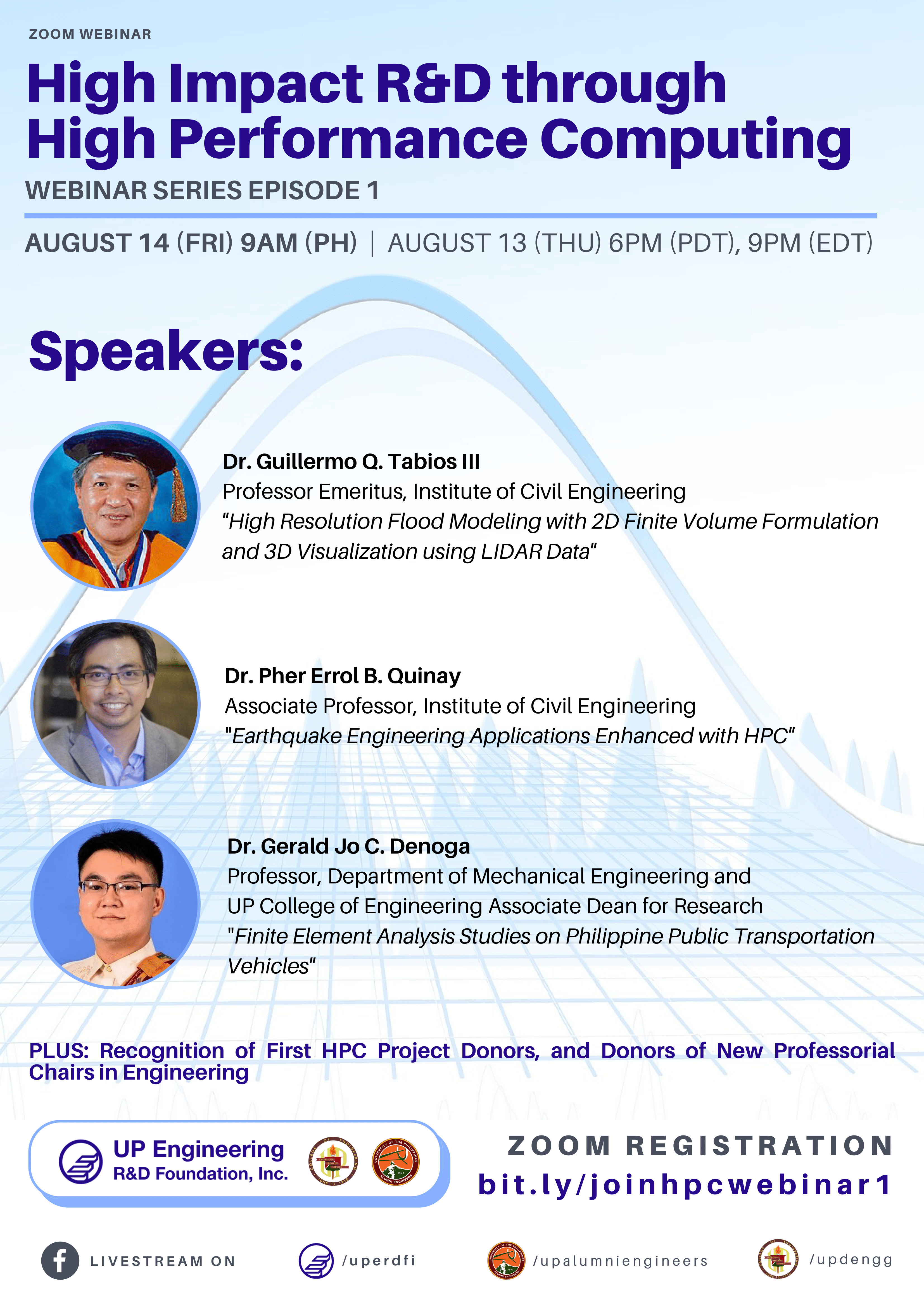 High-performance computing (HPC) is one of the most important tools in the advancement of science. By utilizing parallel processing techniques across multiple computer nodes, it can solve complex computational problems and increase R&D throughput. The UP College of Engineering has been pushing the boundaries in pursuit of scientific discoveries with social relevance given its resources. Imagine what it can further contribute to the nation given the boost of high performance computing. Help us build an exclusive HPC Facility of initially 1,000 cores for the UP College of Engineering. #BuildUPCOEComputerCluster
Join us for a Zoom webinar entitled, High Impact R&D through High Performance Computing, on August 14 (Friday), 9:00 – 10:30 am (Philippine Time). In the US, this will be on August 13 (Thursday), 6 pm (PDT) and 9 pm (EDT). This webinar is free and open to the public, but online registration is required. Should you prefer an alternative viewing platform, the webinar will also be streamed live on Facebook at www.facebook.com/uperdfi.
About the Speakers
Dr. Guillermo Q. Tabios III is a Professor Emeritus at the Institute of Civil Engineering and Research Fellow of the National Hydraulic Research Center. He is also a member of the National Academy of Science and Technology, the highest recognition and scientific advisory body of the Philippines. He teaches and conducts research in stochastic and computational hydrology, hydraulics and water resources engineering. Dr. Tabios will present a potential use of the HPC for high resolution flood modeling together with 3d flow visualization using LIDAR data.
Dr. Pher Errol B. Quinay is an Associate Professor and the Head of the Structural Engineering Group at the Institute of Civil Engineering. He serves as the faculty-in-charge for the DMCI Homes Computational Laboratory and conducts research on computational earthquake engineering, engineering seismology and high-performance computing. In this webinar, he will showcase the various earthquake engineering applications enhanced by high performance computing.
Dr. Gerald Jo C. Denoga is a Professor at the Department of Mechanical Engineering and the Associate Dean for Research at the UP College of Engineering. His research interests are on systems modelling, transportation energy, control systems and machine design. He leads the campaign to set up dedicated clusters at the UP College of Engineering to hasten computational analysis and improve R&D throughput. He will share how high performance computing can be utilized in analyzing and modelling the spread of aerosol particles in different types of public transportation vehicles.
Organizers and Inquiries
This webinar is organized by the UP Engineering R&D Foundation, Inc., co-presented by the UP College of Engineering and the UP Alumni Engineers.
For inquiries, please contact Norika Ishikawa, Executive Assistant of UPERDFI at info@18.141.158.9.