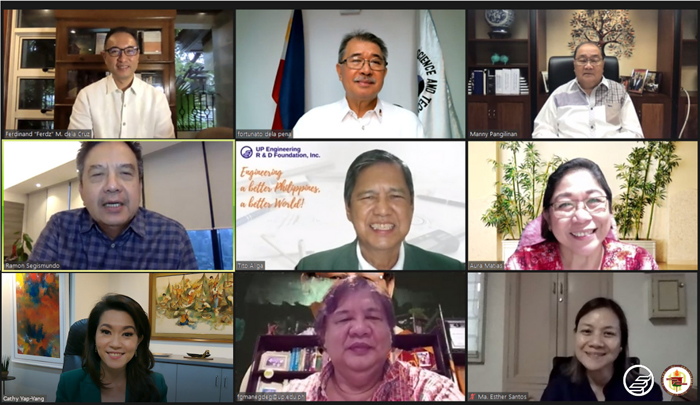 (Top-left to right): UPERDFI President Ferdinand M. del a Cruz; DOST Secretary Fortunato T. de la Peña; PLDT Chairman, President and CEO Manuel V. Pangilinan; UPERDFI Member Ramon B. Segismundo; UPERDFI Executive Director Alfonso A. Aliga, Jr.; UPCOE Former Dean and Professor Aura Matias; PLDT Corporate Communications Head Cathy Yang; UPCOE Dean Ferdinand G. Manegdeg; and PLDT-Smart Foundation Executive Director Esther O. Santos

UPERDFI, together with the UP College of Engineering, held the "Digital Pasasalamat" on November 11 via Zoom to honor PLDT Chairman Manuel V. Pangilinan (MVP). The companies under the MVP Group have been supporting the faculty development, student projects, instruction and R&D facilities in UP Engineering, and for UP Diliman as well.
UPERDFI Member Mon Segismundo hosted the event,which was also attended by PLDT-Smart Foundation Executive Director Esther Santos and PLDT Communications Group Head Cathy Yang.
UPCOE Dean Ferdie Manegdeg presented a brief College Situationer. ED Tito Aliga enumerated the support made by various MVP Companies: 13 professorial chairs in Engineering and 2 in the College of Science, sponsored by Philex Mining Corporation, Meralco, PLDT-SMART Foundation and Maynilad Water Services, Inc. (MWSI). MetroPacific Tollways Corp sponsors 4-6 scholars for their entire Engineering courses – freshman to graduation.
Meralco sponsored  the Shell EcoMarathon entry of UPCOE for five years. MWSI renovated an old room at Melchor Hall to become the Maynilad Room, and Meralco furbished the Innovation Hall at the EEEI Building. MVP also sponsored the renovation of a faculty house to become the Balay Atleta in UP Diliman.
UPERDFI President Ferdz de la Cruz shared the plans of the Foundation and the College to establish a dedicated High Performance Computing Facility for UPCOE. The modular HPC facility is designed to house 1,120 CPU cores that will expand the research capability of faculty and students.
DOST Secretary and UPERDFI Adviser Fortunato de la Peña also graced the event. He thanked MVP for his support not only to UP Engineering, but also to DOST and to the country especially in times of COVID.
MVP humbly accepted all the gratitude and praise, and thanked UPERDFI, UPCOE and DOST in return, for allowing the MVP Group to serve society in different ways. He expressed support for the HPC Project, noting "  …1,100 cores pales in comparison to the world class standard of 20,000 cores. So maybe we should have at least 5,000 to 10,000 cores." The HPC is consistent with MVP's commitment to establish an R&D Center in the UP College of Engineering, as he cited during the 2015 UPCOE College Recognition Rites where he was the guest speaker.
In closing, he pledged to establish the  Metro Pacific Investments Corporation Professorial Chair in Engineering.
Time and time again, MVP has proven that sharing never goes out of style.
Muli, maraming salamat at mabuhay ka, MVP!