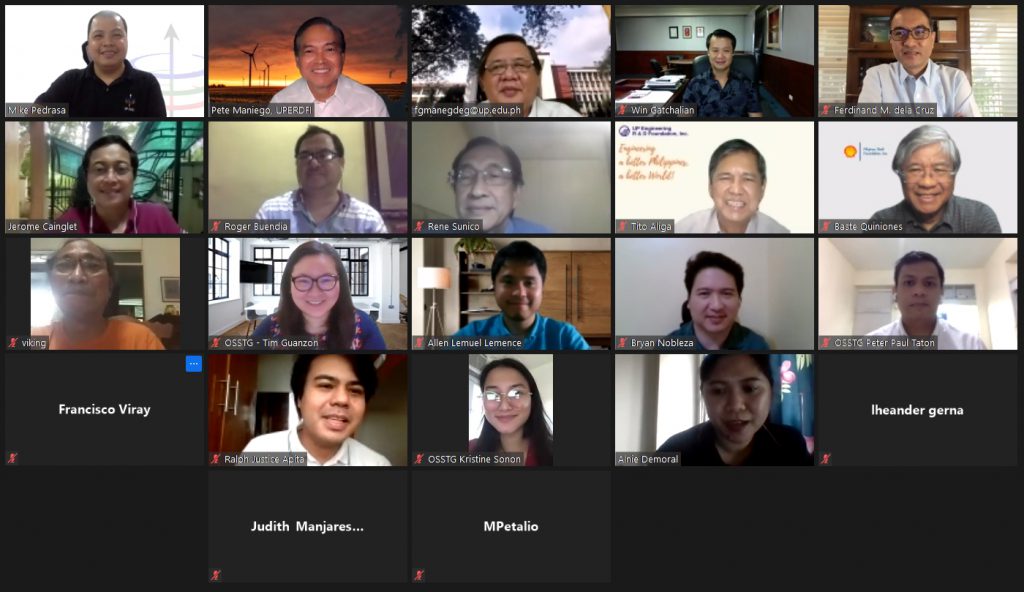 Senate Committee on Energy Chairman Senator Sherwin "Win" Gatchalian hosted UPERDFI and UPCOE officials for the presentation of the Philippine Energy System Modeling (ESM) Project  for Luzon on February 5, via Zoom.
UPERDFI Adviser Pete Maniego, who heads the 10-man project Technical Advisory Panel (TAP) that includes Advisers former Prime Minister Cesar Virata and former DOE Secretary Francisco Viray, facilitated the discussion. Adviser DOST Secretary Fortunato de la Peña also attended.
In his opening remarks, UPERDFI President Ferdinand de la Cruz thanked Sen. Gatchalian for his full support, by way of the Energy Research Fund that was given to UP in 2019-20, and the establishment of the Philippine Energy Research and Policy Institute (PERPI) which will be hosted by UP.
Team leader Dr. Michael Angelo Pedrasa made the detailed presentation. The Research Team  comprises recent UP MS Energy Engineering graduates and current students. Member Roger Buendia, an adjunct professor in Energy Engineering (EgyE), is the project manager.
Using Low Emissions Analysis Platform (LEAP) modelling tool that requires the use of historical demand data by sector as a base for electricity consumption behavior, demand forecasts based on relevant econometric projections until 2040 were developed. The capacities and operating costs of present electricity generation plants were analyzed, and assumptions relevant to several scenarios were built, with the inputs and rigorous review of the TAP.
The resulting demand and supply figures, plus relevant laws on energy, were inputted into the model. This generated, for the  baseline scenario, the optimal plant construction schedule with the levelized cost of electricity (LCOE) as a key indicator. Five other scenarios were modelled, showing the schedule for building what types of generation plants on what year with the resulting LCOE. These showed the dynamism and usability of the LEAP tool.
Sen. Gatchalian expressed the need for independent expert opinions on policy and implementation matters. He cited that in Germany, the country's energy transition plan was crafted by the academe. With his sponsorship, the Energy Research Fund was made available to UP, which was used for several related projects done by various UP constituent universities. The bill for the creation of PERPI has already passed in the Senate and is being deliberated in the Lower House.
The UP Energy Research Fund is now being utilized by Dr. Pedrasa for modelling Visayas and Mindanao. He cited that with continuing research, a nucleus of energy modellers is being built through the EgyE Program.
UPCOE Dean Ferdinand Manegdeg formally closed the meeting by thanking Sen. Gatchalian,  UPERDFI, the TAP members led by Pete Maniego, Dr. Pedrasa and his team, and the staff of Sen. Gatchalian's office who posed discussion questions during the meeting.