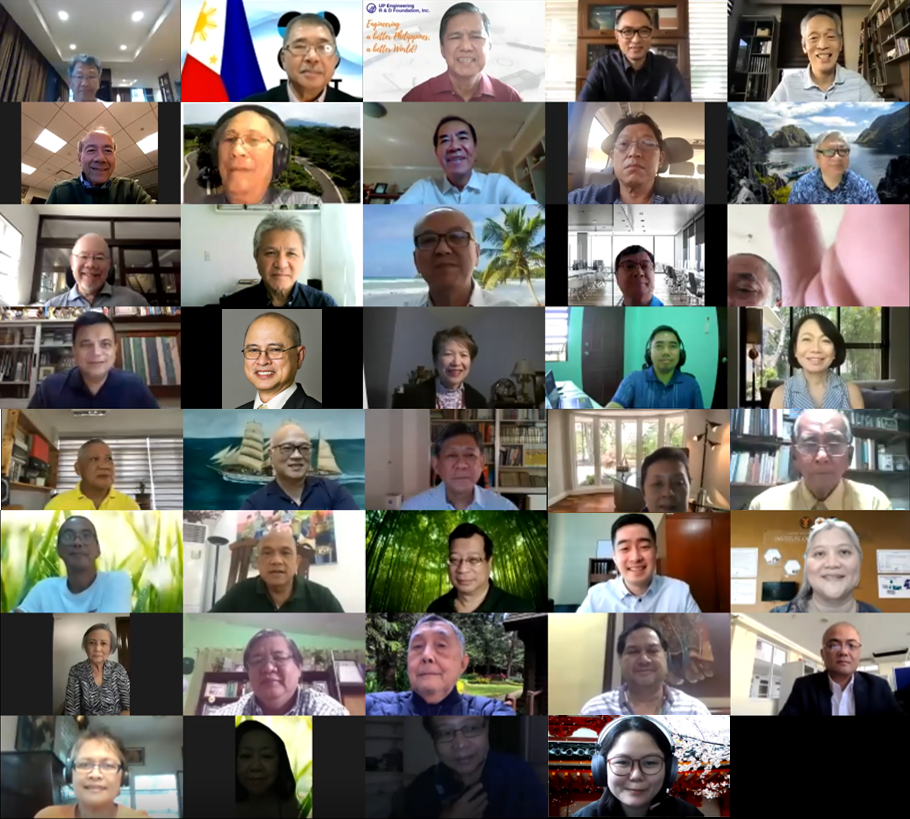 (top-left to right) Dado Banatao (from US), Sec. Boy de la Peña, Tito Aliga, Ferdz de la Cruz, Chicho Mantaring, Vic Villagracia (US), Joe Cruz US), Babes Singson, Vladimir Co, Alex Ibasco, Val Reyes, Glen Tabios, Alex Sy, Babby Reyes (Japan), Ray Goco, Ricky Peña, Sonny Viray, Chato Calderon (US), Bong Minguez, Riza Mantaring, Dante Briones, Michael Gonzalez, Elmir de la Cruz, Edith Atienza, Mar Casillan, Rico Ibana, Alexis Acacio, Ega Atanacio, Milbert Capistrano, Tonette Tanchuling, Anette Alcasabas, Dean Ferdie Manegdeg, Leo de Ocampo, Roger Buendia, Dir. Gen. Joel Marciano, Rhod Gonzalez, UP VP Lisa Bersales, Wash Roqueza, Norika Ishikawa (not in photo: Bobby Calanog, Glenn Gratil, Ato Jiao)
The regular quarterly Board of Trustees Meeting held virtually by Zoom on February 17 was attended by 41 members (out of 206), including those from the US and Japan. The 3-hour meeting welcomed new members, reviewed 2020 results and alerted members of 2021 activities.
Despite the lockdown, 2020 goals were achieved. These included unplanned major activities which were undertaken to meet challenges, like fund-raising for the Covid-19 Projects, the College Laptop Drive to support needy students for remote learning, and the High Performance Computing Facility.
Upon review of various ongoing programs and projects, the Board agreed to move forward with the following key action points:
Subject to agreed modifications arising from inputs during the meeting, approval in principle of the Innovation Model proposed by the Innovation Committee;
Approval of the 2021 Budget, the draft of which was discussed in the November BoT meeting;
Implementation of the High Performance Computing Facility;
Refocusing of professorial chair awards to predefined topics of research;
Digitalization of accounting systems, including Document Management System;
Expanded networking;
Formation of a policy review and direction-setting team; and
Preparing the groundwork of our 50th anniversary in August 2022, or in 18 months.
We look forward to having more members actively participating in the foundation's activities to support UP Engineering. Thanks to the 40+ members who responded promptly to the google form survey that CorpSec Chicho sent out last feb 16! We hope the rest will follow shortly.
See you at our upcoming General Membership Meeting on May, 19, 2021 (Wednesday). Save the date!