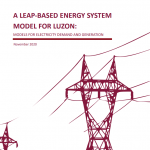 On June 7, the Management Association of the Philippines Energy Committee organized a zoom meeting with electric distribution associations, where Dr. Mike Pedrasa discussed the ESM Study.
The groups included the Private Electric Power Operators Association (PEPOA), Development for Renewable Energy Applications Market Mainstreaming and Sustainability (DREAMS), Philippine Independent Power Producers Association (PIPPA), Philippine Rural Electric Cooperatives Association (PhilRECA), and was attended by 80 participants. Two companies expressed interest in engaging Dr. Pedrasa for subsequent discussions.
Considering feedback from various audiences, the Technical Advisory Panel is organizing a zoom meeting on June 17 to revisit the study assumptions and plan subsequent builds.