The Department of Mining, Metallurgical and Materials Engineering (DMMME) hosted a Professorial Lecture in a hybrid format that featured newly-retired professor, Dr. Herman Mendoza last December 2, 2022. The event was held at the DMMME Theater.
With a BS Mining Engineering degree in 1979, a BS Metallurgical Engineering degree in 1981, and an ME in Environmental Engineering in 1986, he obtained his Doctor of Engineering in Material Processing and Mineral Engineering at Tohoku University in Japan in 1994. He joined the DMMME Faculty in 1994.
Fondly called Prof Judge in the UP Engineering community, he retired from faculty work effective the end of AY 2021-22. DMMME requested him to deliver a valedictory lecture, the topic being on Surface-Chemical Separation of Ultrafine Particles in Dilute Suspension.
The hybrid event was attended by Prof. Mendoza's past and current students and mentees (that included the DMMME faculty). It also highlighted his contributions to the UP and to Philippine society. Easily the most noteworthy was the Department of Science and Technology (DOST) – funded project CLINN-GEM, which stands for Community-Led Integrated Non-Cyanide Non-Mercury Gold Extraction Method that started in 2015, The CLINN-GEM Technology for People's Empowerment and Participation earned the 2021 Gawad Tsanselor sa Natatanging Programang Pang-Extension. This is being implemented in four sites in remote mining communities, replacing environment-destructive practices carried out by small miners.
Prof Mendoza was the holder of the Philex Mining Corporation Professorial Chair for over 20 years. He had used the cash award to help support the field/lab projects of his undergraduate students.
As an added part of the program, which was attended by Prof. Mendoza's wife and their family, UPERDFI ED Tito Aliga handed over to Prof. Mendoza a copy of the UPERDFI Golden Anniversary Book.
We look forward to newly-retired professors delivering their Valedictory Lectures! (This is different from the annual Professorial Chair Colloquium.)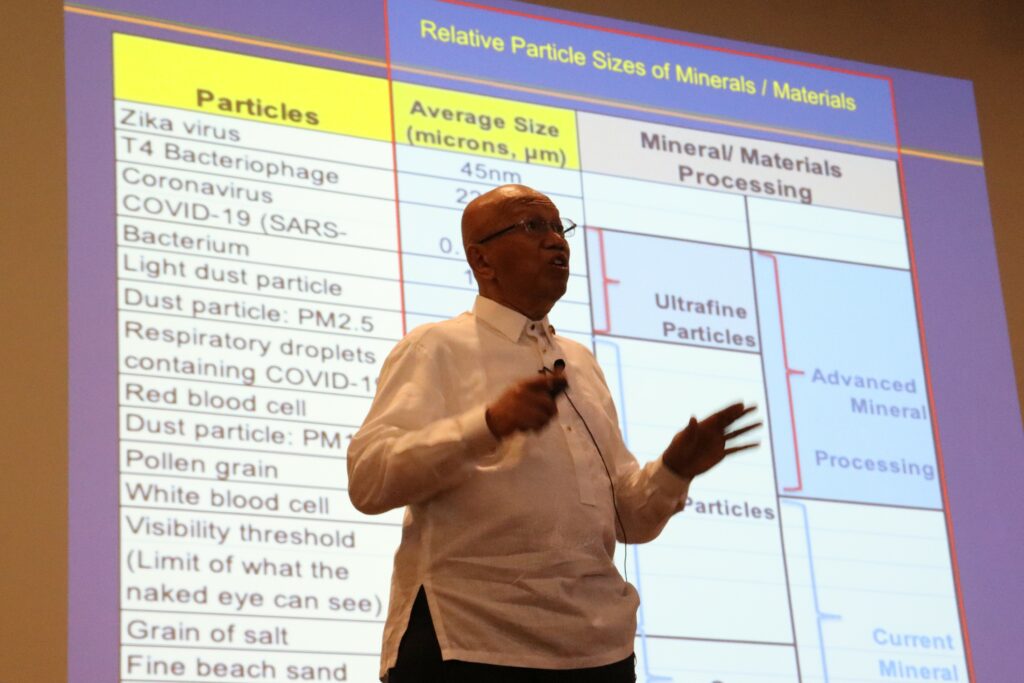 Left photo shows Prof. Mendoza delivering his lecture. Right photo shows ED Tito Aliga handing over the UPERDFI Golden Book to Prof Judge.