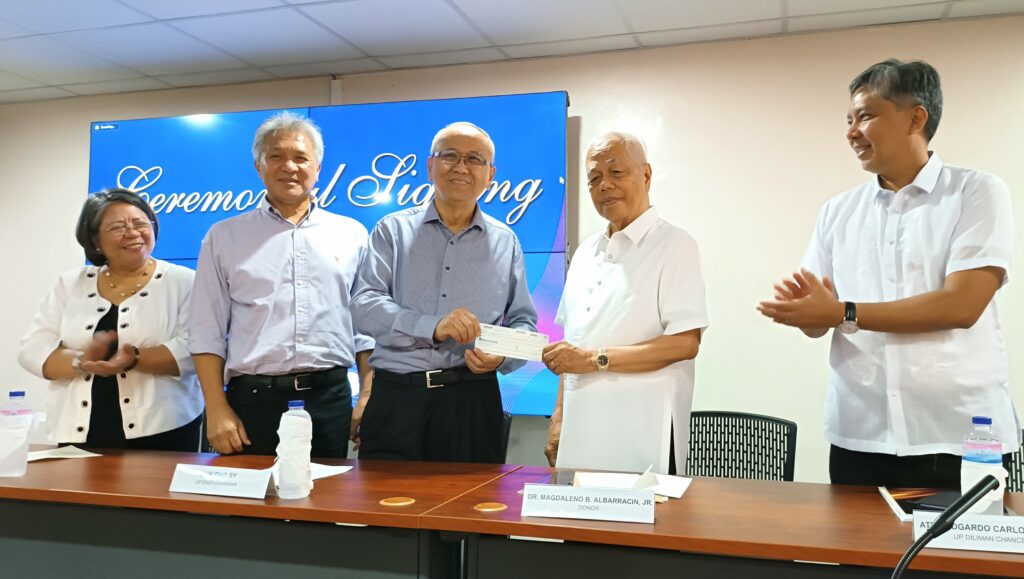 Dr. Magdaleno Albarracin, Jr. (2nd from right) hands over the donation to UPERDFI Chairman Alex Sy. In photo (L-R), Dr. Rowena Cristina Guevara, Dr. Guillermo Tabios III and Atty. Edgardo Carlo Vistan II.
Quezon City, July 26, 2023 – Dr. Magdaleno B. Albarracin, Jr., an alumnus of Electrical Engineering, Vice Chairman of Phinma Inc., UPERDFI Adviser, and former Chairman, has generously donated funds to upgrade four laboratories and develop a smart lab at the UP Electrical and Electronics Engineering Institute.
The tripartite Memorandum of Agreement for the EEEI Lab Upgrade Project was signed by Dr. Albarracin, UP Diliman Chancellor Edgardo Carlo L. Vistan II, and UPERDFI Chairman Alex Sy Sun Eng.
Witnesses to the MOA signing included UP College of Engineering Dean Maria Antonia N. Tanchuling; DoE Undersecretary and UPERDFI Adviser Dr. Rowena Cristina L. Guevara; UPERDFI Project Representative Rafael Nestor Mantaring; and UPD EEEI Director Lew Andrew Tria.
The implementing Deed of Donation was also signed by Dr. Albarracin and UPERDFI Chairman Alex Sy.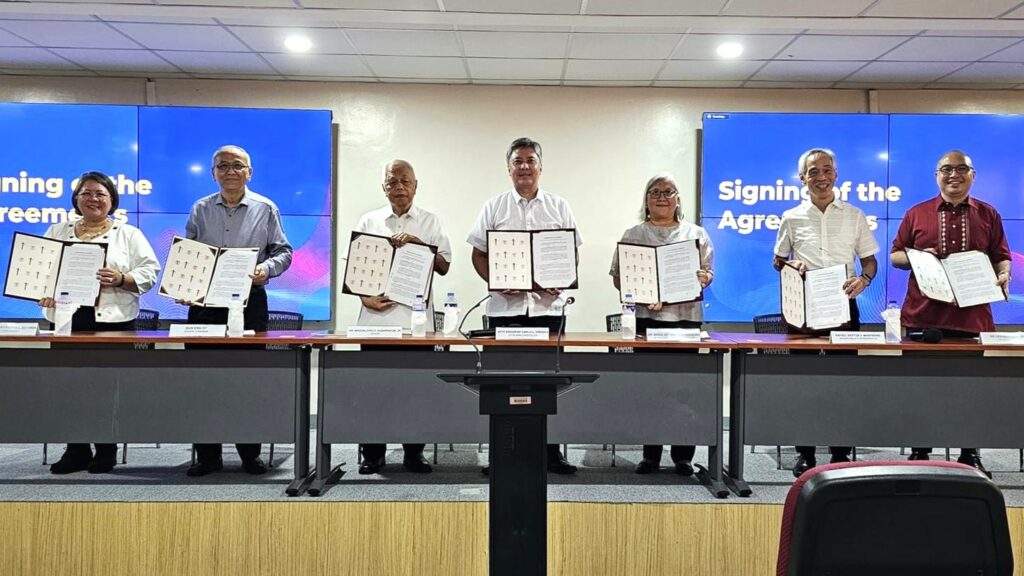 Tripartite MOA signed by (L-R) Dr. Rowena Cristina Guevara, Engr. Alex Sy Sun Eng, Dr. Magdaleno B. Albarracin, Jr., Atty. Edgardo Carlo Vistan II, Dr. Maria Antonia Tanchuling, Engr. Rafael Nestor Mantaring and Dr. Lew Andrew Tria.
In attendance were Former DOST Secretary and UPERDFI Adviser Fortunato de la Peña; UP Diliman Vice Chancellor for Research and Development and UPERDFI Member Carl Michael Odulio; UPERDFI Executive Director Alfonso Aliga, Jr.; UP Alumni Engineers President and UPERDFI Trustee Jose Jesus Gomez; UP EEEI Alumni Association President Conrado Arevalo; retired EE Professor Dr. Luis Alarilla, Jr. (who was instrumental in setting up the BS Computer Engineering Program in the 1990s); and several EEEI Faculty.
Chancellor Vistan expressed profound appreciation for the generous donations that have empowered UP to fulfill its mission. The university will always cherish and remember the valuable contributions, acknowledging the legacy of generosity left behind by the donors.
Dean Tanchuling extended heartfelt thanks to Dr. Albarracin and his family for their generous donation to EEEI. The donation will create more opportunities for learning and growth among the students. The Dean also commended their efforts in inspiring others to give back to the College.
Chairman Alex Sy, an advocate for hands-on learning, highlighted the shortage of equipment, maintenance, and upgrades in various educational institutions and thanked Dr. Albarracin for his valuable donation. Alex, a staunch donor himself, also shared that he drew inspiration from Dr. Albarracin's leadership as a former UPERDFI Chairman in encouraging alumni to contribute to UP.
Dr. Albarracin, accompanied by his family (wife Trinidad, son Mario, daughter-in-law Maui, and granddaughter Ina), shared his motivations for making the donation. Grateful for the positive impact UP had on his life, he wants to give back to both the university and society. He emphasized the values of perseverance, hard work, passion, and love for work instilled in him by UP. He hopes that this donation will encourage other alumni to contribute their talents, time, and resources to UP, and he encouraged the faculty to continue improving and raising support for the College.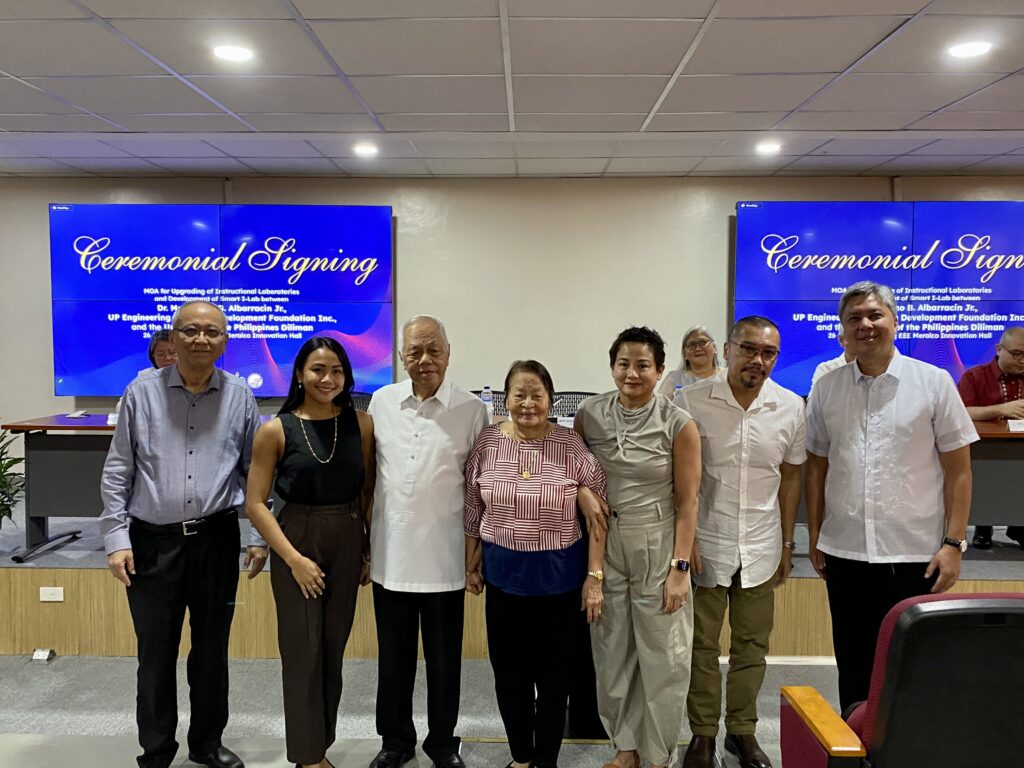 The Albarracin Family (2nd from left) Ina, Dr. Mag, Trinidad, Maui and Mario Albarracin joined by UPERDFI Chairman Sy and UP Chancellor Vistan.

EEEI Director Tria thanked the Albarracin Family and committed to utilizing the donation effectively. The funds will be used to purchase high-performance computers and upgrade four laboratories, including a smart i-lab equipped with teleconferencing facilities. The emphasis was on optimizing these resources to benefit future engineers and enhance the overall learning experience.
UPERDFI extends its gratitude to Dr. Albarracin and his family for their continuous support to UP Engineering. Dr. Albarracin previously donated the Engineering Centennial Dormitory in 2008 and continues to support the student well-being program and sponsors six professorial chair awards. As UPERDFI Chairman from 2007 to 2014, he also led the fundraising for professorial chairs in engineering.
The Project Implementation Team, led by Director Tria and UPERDFI Project Representative Chicho Mantaring, who is a Professorial Lecturer in EEEI, is dedicated to ensuring the successful realization of the Lab Upgrade Project.
UPERDFI re-echoes the call of Dr. Albarracin to alumni, friends, and the broader community to unite in support of the university's mission, ensuring its continued growth and excellence for generations to come.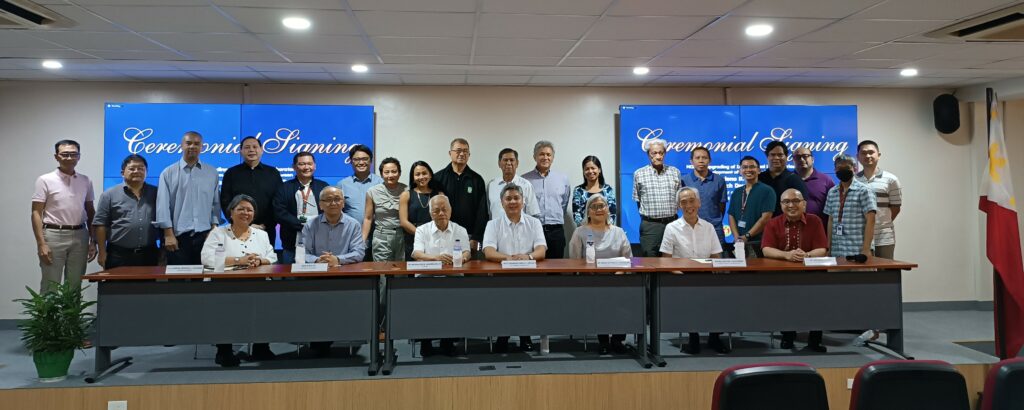 UP Officials, Faculty Members, Alumni and UPERDFI Members witness the Ceremonial Signing