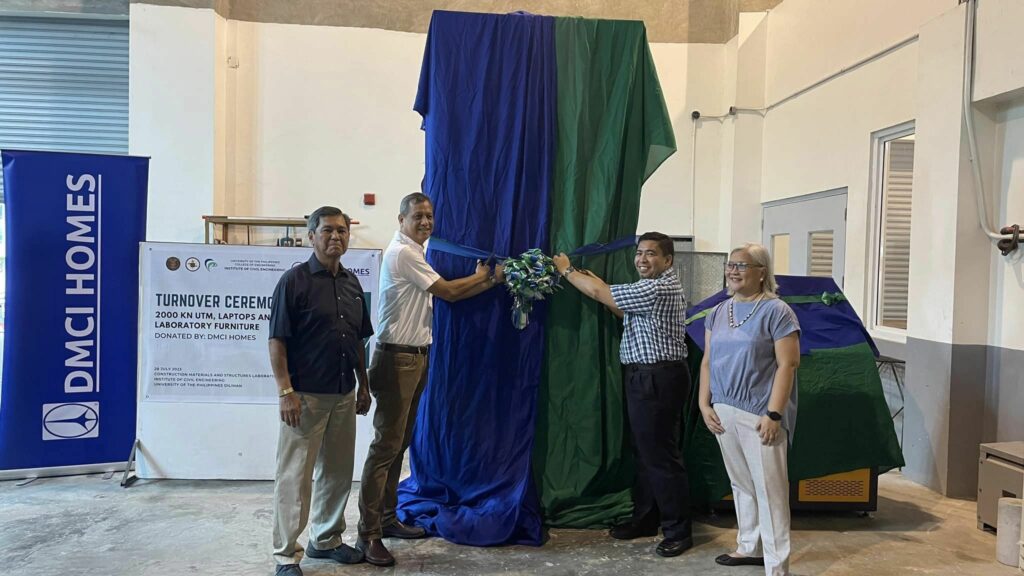 DMCI Homes President Alfredo Austria (2nd from left) and ICE Director Jose Regin Regidor lead the ribbon cutting ceremony for the Universal Testing Machine, together with UPERDFI Executive Director Alfonso Aliga, Jr. and UP College of Engineering Dean Maria Antonia Tanchuling. Photo by Engr. John Carlo Raquiño
Quezon City, July 28, 2023 – DMCI Homes, a renowned real estate development company, demonstrated its unwavering commitment to education and engineering advancement by donating a cutting-edge 2000-kN Universal Testing Machine, a set of modern laptop computers, and top-of-the-line laboratory furniture to the University of the Philippines Institute of Civil Engineering (UP ICE). This generous contribution aims to enhance the performance of construction materials tests and experiments, marking another significant milestone in the longstanding partnership between DMCI and UP.
Engr. Alfredo Austria, speaking on behalf of DMCI Homes, expressed the company's dedication to quality by highlighting the crucial role of testing machines in providing precise measurements of construction materials' strength. "As our Chairman Sid Consunji said, 'what is not measured is not managed.' We should have the right tools and equipment to enable us to deliver good quality," said Austria.
Dr. Maria Antonia Tanchuling, Dean of the UP College of Engineering and former ICE Director, delivered a heartfelt message expressing gratitude for DMCI's continuous support. Dr. Jose Regin Regidor, Director of UP ICE, delivered an acceptance speech on behalf of the institute and expressed profound appreciation for the valuable contribution from DMCI Homes.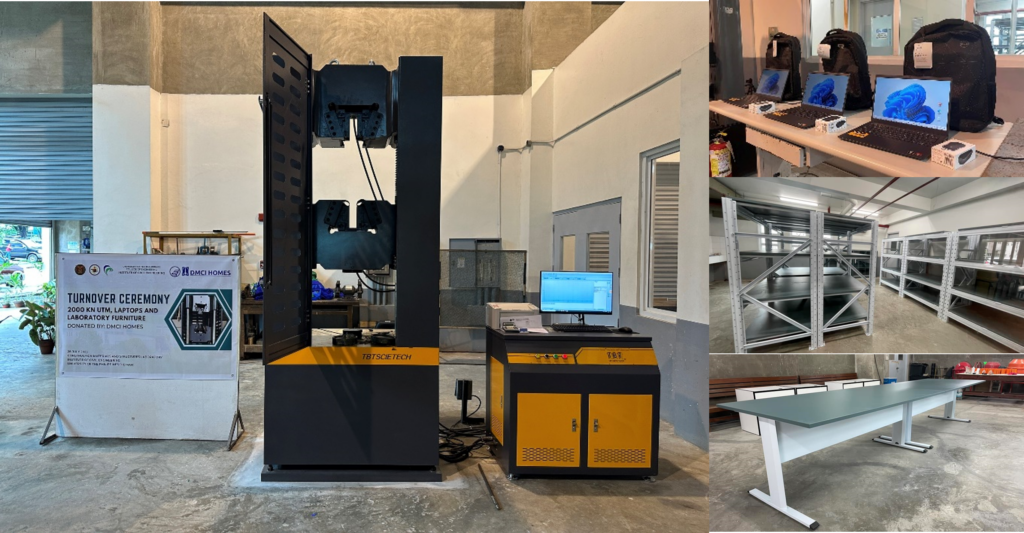 The Universal Testing Machine, laptops, racks and tables for CoMSLab donated by DMCI Homes. Photos by Engr. John Carlo Raquiño
With the newly acquired 2000-kN Universal Testing Machine, UP ICE will have access to cutting-edge equipment, enabling researchers and students to conduct comprehensive construction materials tests and experiments. The addition of laptop computers and laboratory furniture will create a more conducive environment for innovation and learning.
This latest donation is a testament to DMCI's long-standing relationship with UP, which dates back to their founder, the late David M. Consunji, one of the university's most distinguished alumni and founding member of UPERDFI. His legacy of support continues through his son, DMCI Holdings Chairman and UPERDFI Adviser Isidro Consunji, who maintains the company's commitment to the College of Engineering.
Engr. Alfonso Aliga, Jr., Executive Director of UPERDFI, handed over the Golden Anniversary Coffee Table Book to Engr. Austria in recognition of the company's continuous support to UP throughout the years. DMCI Project Developers sponsors professorial chairs and teaching and research awards, and funded the construction of the ICE Building, DM Consunji Theater, and various ICE laboratories and classrooms.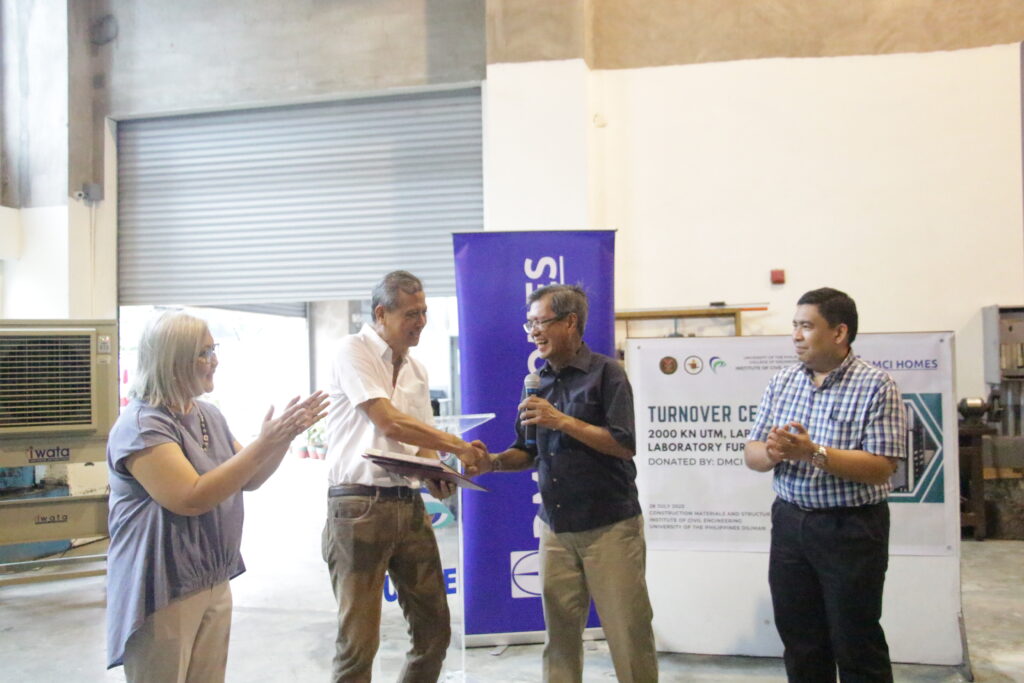 Handing over the commemorative UPERDFI Golden Anniversary Coffee Table Book to DMCI Homes. Photo by Mark Joy Opinaldo
In this time of evolving challenges, collaborations like this exemplify the importance of combining academic expertise with corporate vision. DMCI Homes' support sets an inspiring example for other companies to join hands with academic institutions, laying the foundation for a brighter future for engineering education and research in the Philippines.