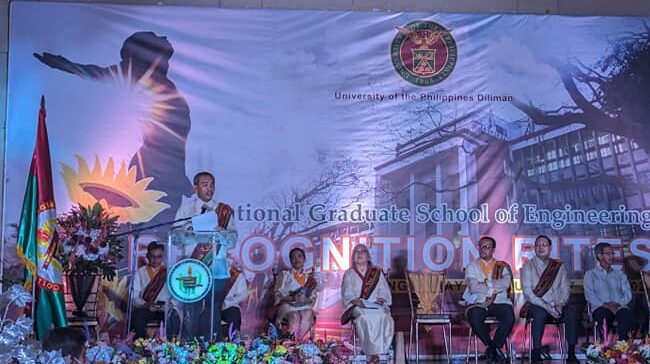 The UP College of Engineering National Graduate School for Engineering held its Recognition Rites on July 27, 2023, at the Bahay ng Alumni, Quezon City. The guest speaker was UPERDFI Trustee Dr. Enrico "Eric" Paringit, BS Geodetic Engineering (1997) and MS Remote Sensing (1999). He finished his D.Eng degree at the Tokyo Institute of Technology. He was a key scientist in DOST Project NOAH and the DOST DREAM LIDAR Project.
He admonished the MS and Ph.D. graduates to transform the country by undertaking research and development work. He reminded them to forge collaborations with partners in other disciplines so that holistic solutions may be germinated, and then thrive in a changing society. He cited that NGSE graduates should be creators of innovation that impact society.
The NGSE Class of 2023 is composed of 10 PhDs and 100 MS graduates. Alfonso Labao, a Ph.D. in Computer Science graduate, was the Class Standard Bearer and was gifted with the UPERDFI Golden Anniversary Book. He will join the DCS faculty team.