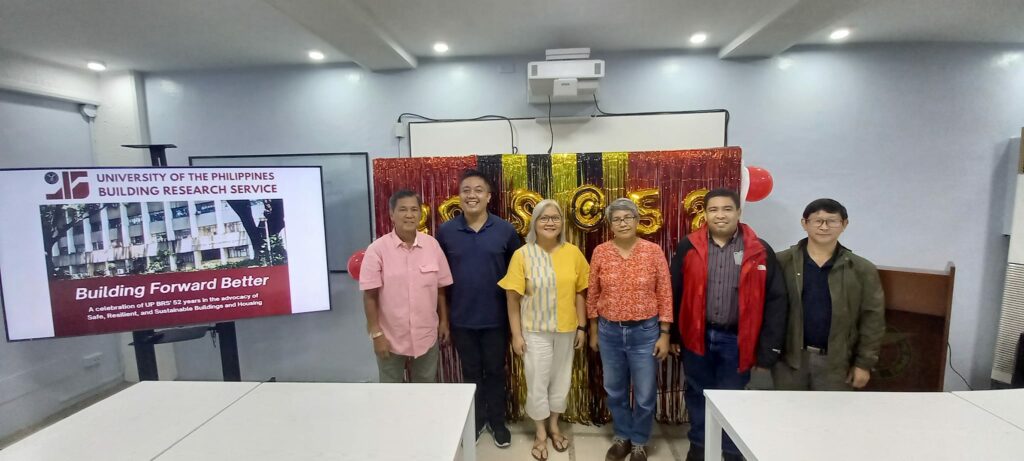 (L-R) ED Tito Aliga, Dir. Harold Aquino, Dean Tonette Tanchuling, NEC Deputy ED Dr. Lally Perez, ICE Director Dr. Regin Regidor, and former BRS director, Dr. Fer Germar
The UP Building Research Service, one of five Research Centers under the National Engineering Center, celebrated its 52nd year on July 31, 2023 with a meaningful ceremony. The BRS continues to provide design of structures, incorporating Safety, Sustainability and Resilience principles. It has adopted the rallying cry – Building Forward Better.
BRS Director and ICE Professor Dr. Harold Aquino gave a summary of BRS achievements and current projects, which are mainly for public-sector structures. Dean Tonette Tanchuling encouraged BRS to continue researching better building systems. ICE Director Dr. Regin Regidor cited the continued collaboration between BRS and ICE, as ICE has always been the staffing source. Former BRS Director Dr. Fer Germar expressed satisfaction that the current team led by Dr. Harold has expanded its spread. NEC Deputy ED Dr. Lally Perez and UPERDFI ED Tito Aliga shared some thoughts also.
It was also a despedida for Dir. Harold, who is leaving for post-doctoral studies at the University of Auckland, New Zealand, where he obtained his Ph.D.