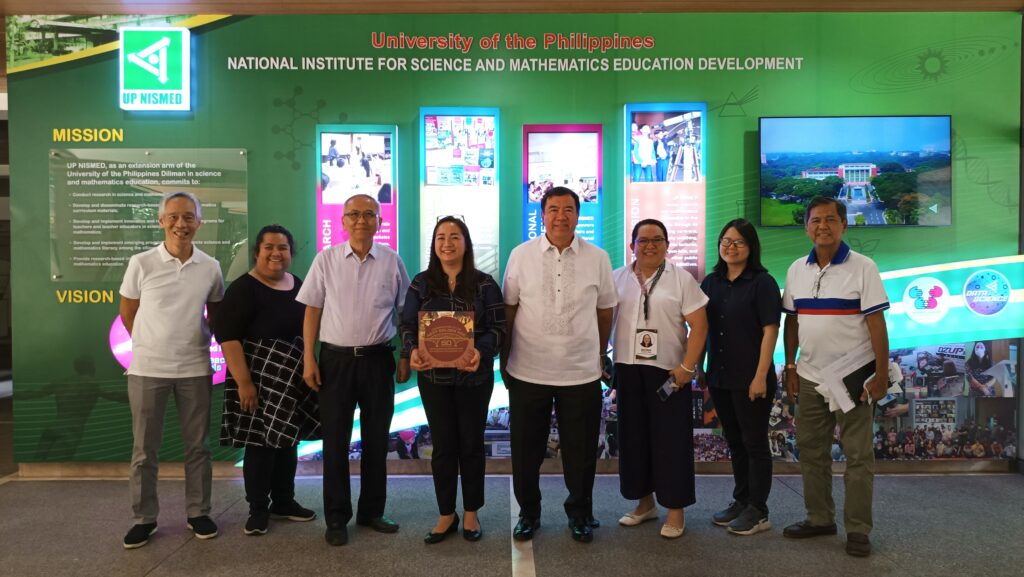 UPERDFI-NISMED Meeting with (L-R) Chicho Mantaring, Dr. Grace Gomez, Alex Sy, Dr. Sheryl Monterola, Lito Bermudo, Dr. Monalisa Sasing, Norika Ishikawa and Tito Aliga.
UPERDFI officers met with the University of the Philippines National Institute for Science and Mathematics Education Development (UP NISMED) officials on August 9, 2023 to explore potential collaborations to boost Science, Technology and Mathematics (STEM) education in the Philippines.
UP NISMED Executive Director Dr. Sheryl Lyn Monterola and Deputy Director for Research and Extension Dr. Monalisa Sasing welcomed the UPERDFI delegates and introduced their mandate and programs. UP College of Education professor Dr. Marie Grace Gomez also joined the meeting.
UPERDFI Chairman Alex Sy Sun Eng, President Dr. Rowena Torres-Ordoñez (via zoom), Vice President Angelito Bermudo, Innovation Committee Co-Chairman Rafael Nestor Mantaring, Executive Director Alfonso Aliga, Jr., and Deputy Executive Director Norika Ishikawa exchanged ideas with UP NISMED on how the Foundation can help mobilize the UP Engineering community in improving STEM education in the Philippines.